Michael Carwile: August 2010 Archives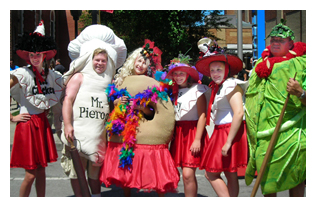 It was the talk of the Slavic Department, I'm told, and when we got there parking was backed up for blocks up Indianapolis Boulevard. Men and women stood on street corners hawking spaces in their private driveways, $4, $6, $10 as you approached 119th Street. And once we had found parking and were walking on our way, an old Polish woman, all of four feet tall, came up to us on the street with horror stories of the crowds ahead. She couldn't take it, she said, but she wished us well. The professors in Cobb Hall had disagreed whether this one was the big one or the little one, but if Whiting, Indiana's Pierogi Festival isn't the marquee event of the pierogi season, I can't imagine what is.
We got to Whiting a little after noon and on empty stomachs, Stephanie, Amy, and I, and so we made it no further than the second stand before ordering ourselves Polish Platters - a Polish sausage, a potato pancake, stuffed cabbage and three pierogis, meet, cheese, or cabbage, all orders including applesauce and sour cream. Ahead, the fair stretched on for half a mile down 119th Street, but with fair-goers packing the sidewalks and roadbed from the walls of brick storefronts on one side of the street to the other, making headway was no mean feat.
Pierogis sizzled behind stalls on either side of the road, branded Lynethe's, Kasia's, Midtown Station, Center Lounge, Nina's, MJ Polish, Victor's Grill, or Ski's Home Cooking, stuffed with potato, cabbage, cheddar, mushrooms, meat, plum, blueberries or sweet cheese. Windy City Pizza Works offered the "pizzogi" and the Freddy's Steakhouse stall advertised, next to its baby back ribs, its ground steak pierogis. Nearly every stand trailed a line ten people deep or more.
Other food items made appearances as well, Serbian sarma, chevop, and kebabs, German strudel, Chinese and Mexican fare, and carnival favorites funnel cake and elephant ears. Other stalls did merchandise - flags, mugs, or matching "I love her pierogis" and "I love his kielbasa" T-shirts. A beer garden was fenced off towards one end of the fair, a craft fair beyond it, and small carnival rides for the kids stood off on a side street.
Up and down the street, wooden cutouts told a secret history of the pierogi, from its discovery in China by Marco Polo, through Marie Antoinette's famous pronouncement: "Let them eat pierogi." (no more apocryphal, to be sure, though rather more fanciful, than the wording more commonly attributed to her). On the dance stage Polkahontas, couples hopped to accordion music, and the main stage, out front of city hall, put on quite a show.
First came the Pierogi Toss, in which pairs of contestants fumbled over their butter doused dumplings at ever greater distances from each other. Next, the foam suited Mr. Pierogi and Miss Paczki, the mascots of the festival, readied tray after tray of potato pierogis for the annual eating contest. The scene quickly devolved into a show of shoveling, guzzling and hand-waving, as contestants packed wads of starch into their gullets, lubricating from water bottles and calling for more to the frantic contest-workers. From the sidelines though, the outcome was clear from the outset. He was thick-set and leathery skinned, with dark-tinted glasses and a grizzly goatee, and in three minutes Matthew Holowicki had eaten thirty-four pierogis, a festival record. Neither Mr. Pierogi nor his sweetheart were safe from this man - Holowicki had similarly taken the Paczki Day eating contest in Hamtramck, Michigan back in 2008.
Back in Hyde Park, Amy, the New Yorker she is, would breathe a sigh of relief to again be in a land of Culture with a capital 'C', which seems by her reckoning to be inversely proportional to BMI. What struck me though was not a scene of boorish and piggish Joe and Jane Sixpacks indiscriminately grazing on all-American processed fats, salts, and sugars. This was not a festival that could be airlifted to a Walmart parking lot anywhere in the country and feel equally at home. Rather, it felt remarkably grounded in place. Yes, the craft fair was unexceptional, and the carnival rides are quite literally shipped from fair to fair, but the meat of the festival - and its potatoes, cabbage, and cheese - was vintage Chicagoland.
Like the University of Chicago, Whiting, Indiana traces its origins to John D. Rockefeller. His establishment of a Standard Oil refinery here, just beyond the Chicago city limits, led to the incorporation of the city and to its painfully earnest slogan, "Refining the Heart of Community". Today, that refinery is still chugging at 121, under the auspices of BP, and though Pierogi Fest itself is only in its sixteenth year, it was founded with over a century of working class Slavic heritage at its back. Even in 2000, Polish and Slovak ancestry were each claimed by just under twenty percent of the Whiting population.
This heritage leads to peculiar brand of folk costume at Pierogi Fest. Though the performers of the Východná Slovak Folk Dance Ensemble, brought in from Toronto, were decked out in the traditional embroidered peasant skirts and vests, Whiting's home-grown ethnic dress reflected a different era. Floral-print headscarves over hair curlers, aprons over housedresses over nylon stockings, toilet brushes in hand, Pierogi Fest's Busha Brigade traipsed up an down 119th Street evoking a distinctive twentieth-century Polish-American moment in the city's history, even their name an Americanization of the the Polish pet name for grandmother, babuscia.
The memory of these Polish grandmothers also gave this year's festival its bizarre theme, "The Year of the Jello Mold." Saturday evening, fair-goers got to witness a Jello-"demolding" competition, meant to determine whether anyone could extract the wiggly dessert from its casing - quickly and in one piece - as well as their grandmothers had. Sadly, we missed the spectacle, but at the chamber of commerce building we could purchase a number of Jello-related souvenirs, as well as "Busha's home-made ethnic aprons."
Whiting, Indiana's Pierogi Fest, with its bushas and pizzogis, is an intricate and festive blending of Eastern European and American identities, but this maneuver has its exclusionary potential. You can read it on fair-goers' T-shirts. From the playful "100 Percent American, Made With Polish Parts" to the less clever and more to-the-point, "My Ancestors Were LEGAL Immigrants," the jump is not too great from blurring the line between Eastern European and American to equating the two. 121 years after the city's founding, Latino businesses filled many of the festival's stalls, and Latino workers many more. Hispanic origins were claimed by twenty-five percent of Whiting's population in 2000, and with the release of this year's census, that number will only have risen.
Pierogi Fest is much to light-hearted to be offensive; anything with walking man-sized foam pierogis is. Horchata, the rice milk drink beloved in Mexico and by Stephanie, won best beverage in this Year of the Jello Mold. And even when babushka-wearing bushas fade from memory, the pierogi will stay as hearty and tasty as ever.