Rachel Cromidas: December 2009 Archives
To save money this holiday season, many Chicagoans are taking up a new trend: the "stay-cation," a vacation you take without going anywhere. While Chicago has a host of holiday festivities in the Wintertime, from ice skating in Millennium Park to viewing the new exhibit on Victorian photocollage at the Art Institute. But most of us students are fleeing the city for Winter Break, so now is the time to experience Chicago's holiday season with a "stay-cation" of our own.
Here's a list of some fun events to get you out of Hyde Park tonight, to celebrate the end of Autumn Quarter!
What: Goodbye Cinema, Hello Cinephilia: Film Culture in Transition
Where: Newberry Library 60 W Walton St (between Dearborn and Clark Sts)
When: 6:15
Description by TimeOutChicago: Designed for those whose love of film goes beyond quoting Big Lebowski lines while drunk, this lecture by film critic and author Jonathan Rosenbaum will touch on the recirculation of classic films as well as the social and aesthetic impact of technological changes. A reception precedes at 5:30pm and a book signing follows.
Tickets: $9, Newberry Library Associates members at the Author level or above $6
What: Decorate Christmas cookies at Beijo de Chocolat
Where: (3334 W. Foster Ave., 773-267-0138)
When: 6-8:30 p.m. attendees will receive a dozen sugar cookies to decorate and get to enjoy mulled cider. Cost is $20.
What: Christkindlmarket
Where: Washington and Dearborn Sts
When: Today-Tomorrow 11am-8pm , Fri-Sat 11am-9pm , Sun-Tue 11am-8pm Ongoing through Dec 24.
Description by TimeOut Chicago: Every year, genuine Germans make the trip across the Atlantic to Daley Plaza, where they set up small stands packed with gifts and culinary delicacies. The traditional-style Christmas market offers hearty holiday fare such as sauerkraut, grilled sausages, potato pancakes, glühwein and sweet candied almonds. The wooden huts also brim with candy, blown glass, European Christmas decorations and other delights.
What: Earth Days, at the Siskel FIlm Center
Where: On State Street between Randolph & Lake (right across from the Chicago Theater).
When: Wednesday December 2nd--6:00pm, 8:00pm, Thursday December 3rd--6:00pm, 8:00pm
Tickets are $7 if you show your student ID.
Description from http://www.siskelfilmcenter.org/node/437: A look back at the transformative history of the environmental movement combined with a cautionary look ahead, EARTH DAYS revolves around nine gurus of green whose groundbreaking work is largely responsible for creating present-day consciousness of the earth's consumption-induced plight. Director Stone's key innovators include: former Secretary of the Interior Stewart Udall; Denis Hayes, organizer of the original 1970 Earth Day; and Stewart Brand, editor of the Whole Earth Catalogue. A colorfully engaging use of archival footage pinpoints the public mindset and environmental challenges of each era from the 50s through the 80s, through vintage PSAs, TV commercials, and news footage. 35mm. (BS)
A student in my history class said: I can't recommend it enough! Go see it! It's totally worth the bus fare + ticket price!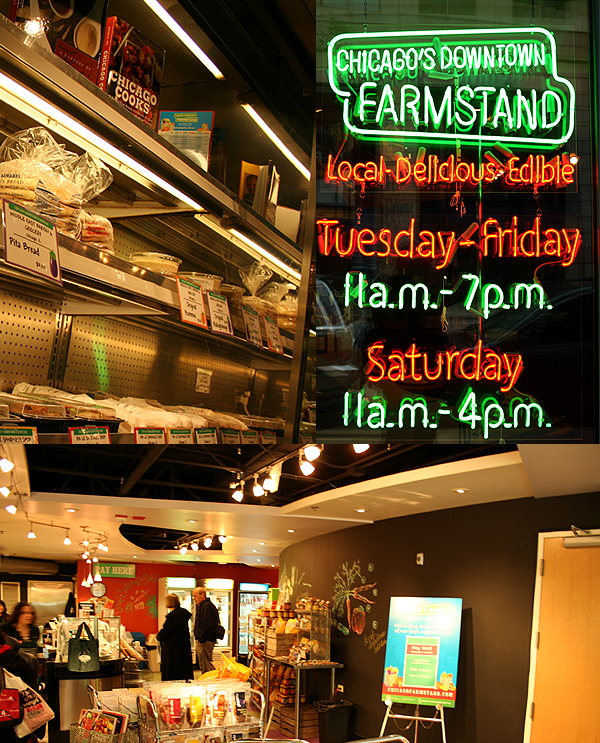 (photo from Chicago Now's Garden Blog)
In honor of the last day of Losing the Farm, an excellent history class on the globalization of food production in the 20th century, I biked up north to the Urban Farm Stand for some locally-grown goodies. Though most of the neighborhood farmers markets left Chicago along with October's Halloween decorations, Chicago's Downtown Farm Stand is open year round to satisfy those cravings for organic Tomato Mountain sauce and brussel sprouts (don't tell me I'm the only one who has them!).

Located just south of the Randolph Street Metra stop, this non-profit has been providing commuters to and from the Loop with vegetables and baked goods produced no more than 280 miles from the city since it opened in the fall of 2008.
And speaking of newly-purchased brussel sprouts in tomato sauce...
(I ate these at my desk while reviewing Phy-Sci lectures)
Let me know if you find any more seasonal surprises around town... perhaps at the Christkindlemarket?
But note: The Farm Stand will close for an annual winter break on Wednesday, December 23, 2009, and will reopen on Monday, January 11, 2010.