Recently in Movies & Film Category
A different take what Chicago legends are:
See John Hodgman's Four Dubious Fables of Chicago from the Chicago Humanities Festival. He insists that Chicago is mythical, although there may be Chicagoans...

A recent Trib article pointed out some strange anachronisms on Google maps (thanks to the Map Room blog for the reference).
Chicago Home for Incurables (thanks to the Library for the Info). I've been on staff at UofC for almost 10 years now, and the online zoning map labeled my office, the Court Theater, the Smart Museum, and the Young Building as the Chicago Home for Incurables. For better or worse, the city's zoning map is now updated, at least for the 5500 block of South Ellis.
While we're on the subject of Chicago legends, this Sunday and next,
Doc Films
is screening "The Front Page" and "Scarface" (1932 version with Paul Muni). Scarface is the story of an Al Capone figure's rise and violent fall. The Front Page is based on the play by Ben Hecht, former Chicago Daily News columnist. Check out
One Thousand and One Afternoons in Chicago
- a new edition published by
UofC Press
last year.
DOC U 2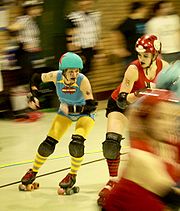 Student Documentary Showcase
Friday, June 5 from 6 to 9 pm.
Film Studies Center, Cobb 307

A fantabulous showcase of recent short works produced by the students in Judy Hoffman's Documentary Production course. "Spanning an impressive array of subjects, from the ideological and tactical role of
army combat uniform
in the U.S. military and the imminent extinction of the
hipster community in Chicago
, to counter-cultural movements like the
Lolita
fashion, Chicago's own fierce and world-famous
Roller Derby
Women's league, as well as
urban agriculture
task forces and the city's cutting edge music scene. This extraordinary program is a witty and insightful exploration of Chicago's unique soundscape, unexplored corners, and most colorful characters."
Some related sites I recommend:
Image is from Windy City Rollers.