[an error occurred while processing this directive]
Hotel Continental, Cairo, Egypt
February 11, 1920
My dear Frances—
I sit at my typewriter with my sweater on under my jacket and my winter overcoat around my legs, and my fingers are so stiff that I find it awkward to write. Yesterday I went out in Sunny Egypt with the umbrella my wife gave me under my arm, a raincoat on my back and rubbers on my feet; it was raining dismally and had been for two days. The streets were a dreadful mess. This morning the thermometer was only half a degree from the freezing point, beating anything on record. There is no means of heating, as you know, and I have never spent such an uncomfortable week shivering with cold anywhere else. A coal pile would look very good to me just now!
I have unfortunately no home letters to acknowledge and I fear those I might have had this week have gone on to Baghdad, following the instructions I sent you. But we have been delayed in getting passage. We sail next Tuesday, February 17 on the American S.S. "Benares" for Bombay. We shall thus be one week behind the itinerary I sent you. That doesn't mean that we shall arrive home a week later, necessarily. For I have determined to sail from the Mediterranean for home not later than August 15, and I expect to see home by the first of September.
I believe I began numbering my letters, but I can't remember what the last number was, — so I never got beyond No. 1. However you can always tell whether you have lost any, for I never allow much more than a week to elapse without getting off to you a rapid survey of the week. My last was a fat one, registered with a lot of snap shots in it, and I am sending you more this time, which I owe to the kindness of our good Ludlow, as I am now beginning to call Bull. He is such a fine fellow.
The days are so full that I find it very wearying. Let me give you an example—day before yesterday. We have been having a really delightful visit with the Metropolitan Museum boys: Winlock who came on the same ship with Luckenbill, and Lansing who came down from Luxor with us to meet Winlock. One of Winlock's first observations to me was that the Metropolitan was too involved with other purchases to think of the remarkable group of IVth Dysnasty tomb statuettes, — the group of twenty-five about which I wrote you in letter before last I believe. Of course I waited then to see what Tano would do. For two days nothing happened. Then his assistant brought in a note saying that Tano would very much like to see me. I was snowed under, with lists and papers, and while I was trying to clear these off my desk, Ludlow telephoned from the American Consulate that my passport had expired, and I must come down and arrange for renewal. So I shoved the stuff aside and went over there. This errand was followed by another for a visa at the British Consulate, then another at the British military permit office, and finally one more at the French Consulate where we were visaed for Syria.
It was nearly lunch time when I returned, but I had a conversation in the lobby with [Howard] Carter (Lord Carnarvon's field man), regarding the kinks and moods of our friend Tano with whom I was soon to have a tussle. I then rushed down to the Semiramis to have lunch with some members of the Milner Commission, including Amos, the Legal Adviser of the Government. It was most enjoyable and profitable and instructive, but consumed a great deal of time. Mr. Alfred Spender, editor of the Westminster Gazette was very anxious to get all he could not only about the political situation, but also regarding the administration of the antiquities, and I thought it my duty to give him all I could. I arranged to take him at 5:45 to see a magnificent side-lock of pure gold encrusted with precious stones, which had been hacked off a glorious statue half-life-size by natives who found it and many other wonderful treasures because they had been allowed by the present system to dig fertilizer in a temple enclosure. It was pouring as I left the lunch, and Mr. and Mrs. Spender took me back to the hotel in their car.
There I found Winlock of the Metropolitan with whom I had a full consultation regarding Tano and the advisability of the purchase for us, as well as about Carter's opinions and his knowledge of Tano. Winlock and I had an appointment at 5:00 to drink tea with Kelsey of the University of Michigan and to talk with him about manuscripts and the source of the remarkable Greek manuscripts bought out here by Mr. Freer of Detroit. I had no sooner gotten Kelsey safely stowed away in a corner with Winlock than I saw M. Lefevre-Pontalis, the French Minister coming toward me. He greeted me very cordially and asked me if I had received his letter. I told him I had indeed, and that the answer which I had written that morning had gone off to him by special messenger. I then told him he would find in the letter a request for a letter of introduction to General Gouraud, the High Commissioner of France in Syria, and asked him if he could give it to me. He said he certainly could and would, and that I must not fail to meet a gentleman whom he then brought to me and introduced as the Count Robert de Caix, Chief Secretary of the High Commissioner in Syria, and the real ruler of that country for Gouraud is of course chiefly a military man. A pleasant conversation ensued, and it was agreed that I should call for my letter and also to talk further with the Count de Caix the next day.
In the midst of all this however the Spenders were due to go to Nahman's and see the golden statue fragment, and sure enough as I was beginning to talk with the two French gentlemen Mr. Spender and his wife arrived. I had arranged with Winlock to give Mr. Spender some evidence which he possessed regarding the situation, — evidence regarding the corruption of the greatest of the present noisy Egyptian patriots, the notorious Saad Pasha Zaghloul. So I shunted the Spenders off onto Winlock for a while, so that I might go over and have a spell with Tano. I had arranged with Tano to inspect a black granite bust, in which I was only mildly interested, so I walked in and talked with him about the bust; but after he had waited in vain for me to mention the 25 tomb statuettes, he told me himself that they were now free for me to consider if I wished to do so. I had been consulting with the best judges of such material for several days. Carter, who is one of the best practical judges of sculpture, and himself a fine painter, said Tano could get 5000 pounds for the group if he sold them separately, piece by piece. Lansing put individual prices on the pieces which footed up to 4500 pounds. MY own judgment was that the group as such being without parallel as an unbroken tomb equipment of servants, musicians, artisans, etc., besides the series of portrait statues of the dead man and his wife, was worth his price of 4000 pounds.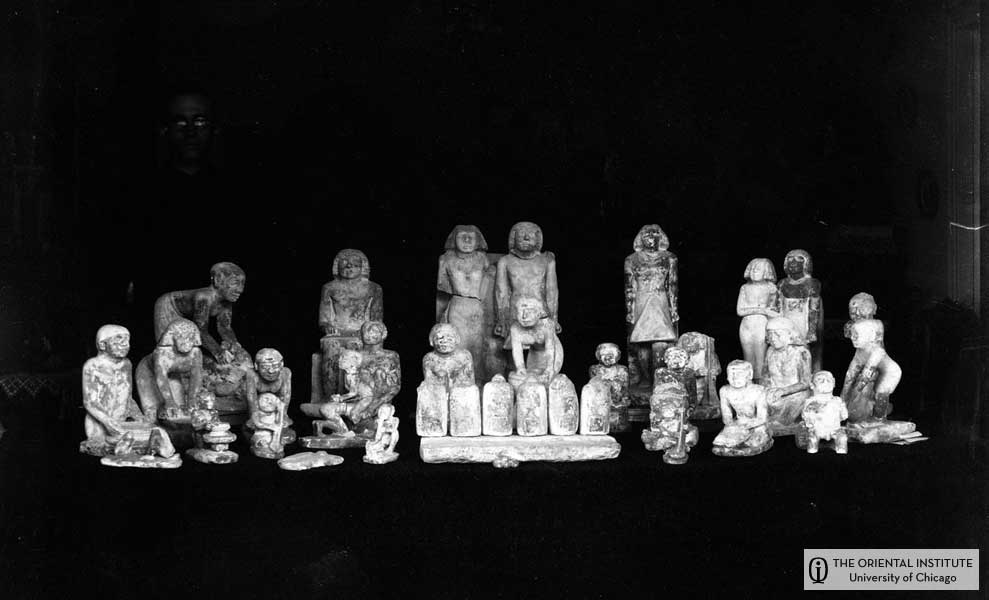 Cairo: View of the group of serving statues at the home of Nicholas Tano (items now on display at the Oriental Institute Museum). February 5, 1920. (N. 4087, P. 7775)
So while Spender was talking to Winlock I offered Tano 3500 pounds. He expressed great disappointment and refused my offer. I told him that I had a friend waiting, and that I would come again in the morning to go to his magazine and see the black granite head. He followed me into the street and talked with me there, and I thought I had him coming; but I bade him good-night and went back to the hotel.
Finding Mr. and Mrs. Spender I drove with them, though it was then after seven, to Nahman's house where we found him very flattered to see one of the Commission and quite ready to show the wonderful golden lock, the so-called side-lock of youth worn by Horus and the young princes of the Pharaonic house. Of course I got back to dinner very late. Coming from the dining room, Winlock introduced an American geologist named Higgins, and I had a valuable conversation with him about the origin of the Nile Valley. In the course of our talk he mentioned Joliet, Illinois, where his father had been a lawyer. I had never seen him before, but I said to him, "Yes, your father's name was Dan Higgins, and before he went to Joliet he taught school in Downers Grove, where my sister went to school under him, and all the little shavers in the lower rooms were as afraid as death of him". Well Mr. Higgins was somewhat surprised, but said I had it right! The Countess di Villamarina drifted over and asked the date of a decorated pottery fragment she had just bought, —interrupting a conversation I was having with Carter. In the meantime I got some very important facts regarding the geology of oases from Beadnell, one of the government geologists, who has written several books on the oases. It was by this time quite late and I was scuttling for bed, when the Earl of Carnarvon buttonholed me and wanted to talk about the possibility of our finding an oriental magician such as Lane saw many years ago! He poured out a long tale of recent wonders in London which he had experienced in the sole company of a remarkable medium. I was ready to drop! Such was one day in Cairo.
I've included some snaps from the last few days, taken while visiting Sakkarah and Abusir: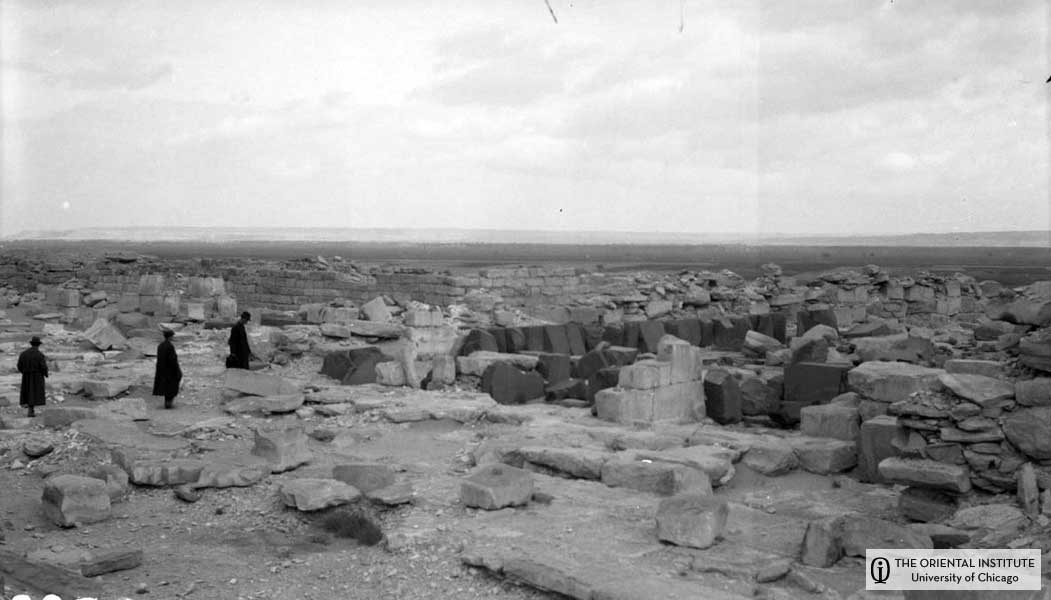 Abusir: A view looking northeast across the upper end of the causeway to the mortuary temple of the pyramid of Ny-user-Ra. February 9, 1920. (N. 3373, P. 6933)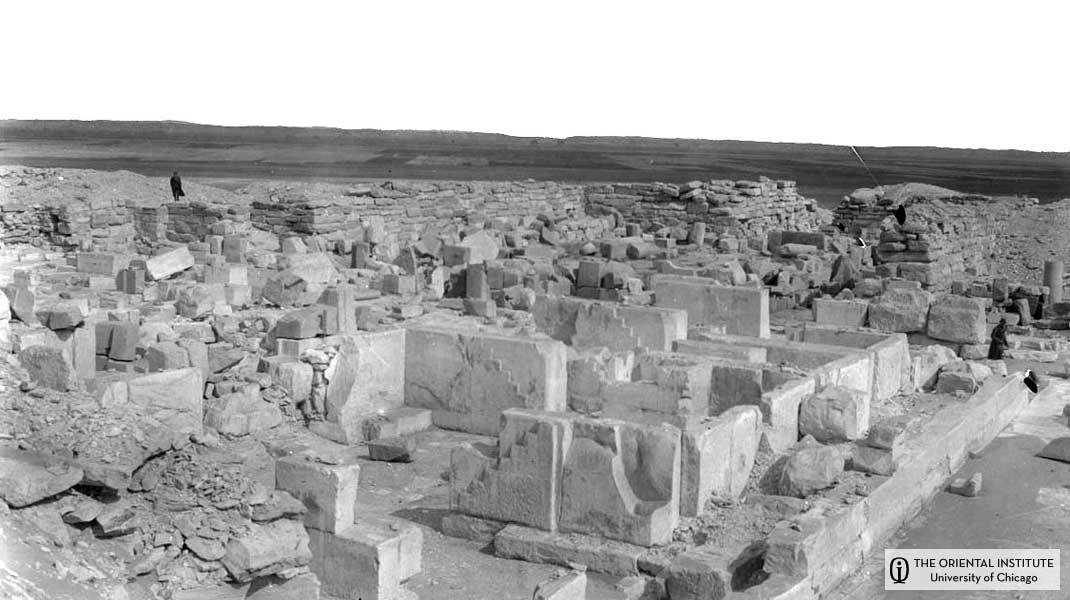 Abusir: The mortuary temple of the pyramid of Sahu-Ra from the southwest, showing the storehouse for offerings in the foreground. February 9, 1920. (N. 3376, P. 6936)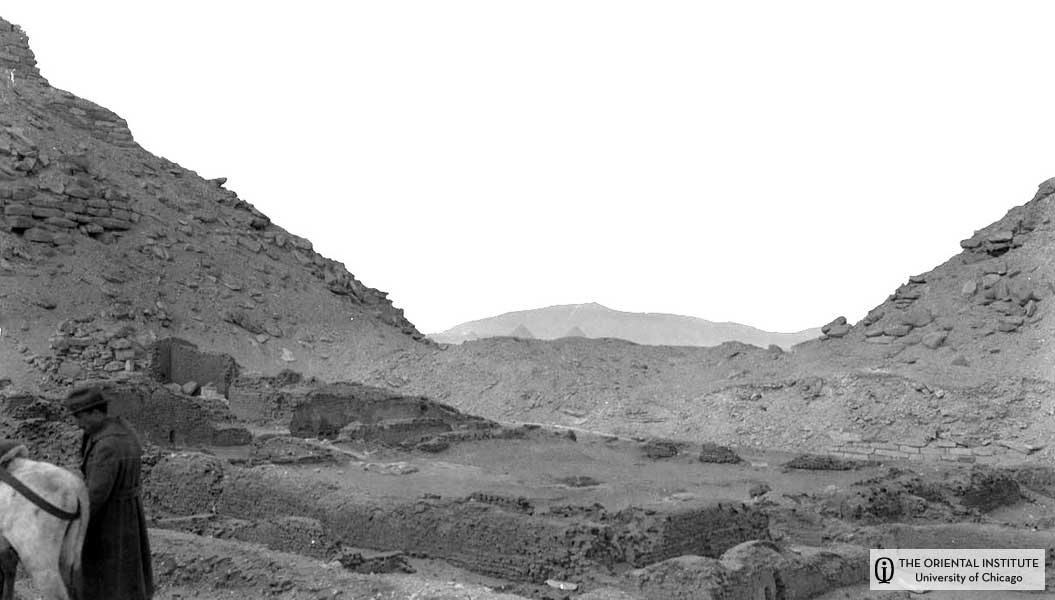 Abusir: The mortuary temple of the pyramid of Nefer-ir-ka-Ra; at the right is the pyramid of Sahu-Ra; Giza pyramids in the background. February 9, 1920. (N. 3377, P. 6937)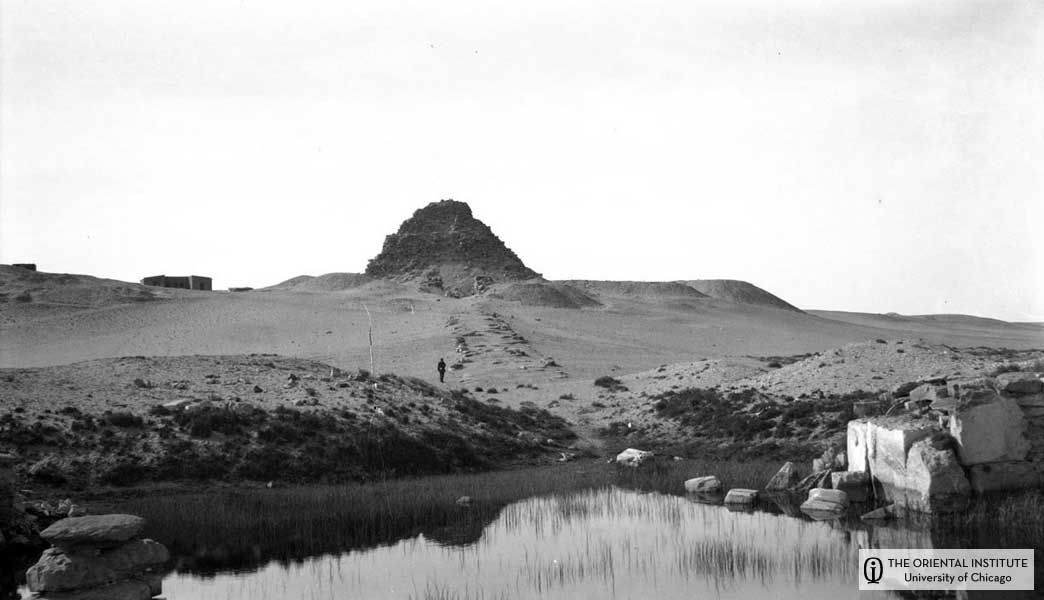 Abusir: View of the pyramid of Sahu-Ra looking from the valley temple west along the causeway to the pyramid. February 9, 1920. (N. 4202, P. 7804)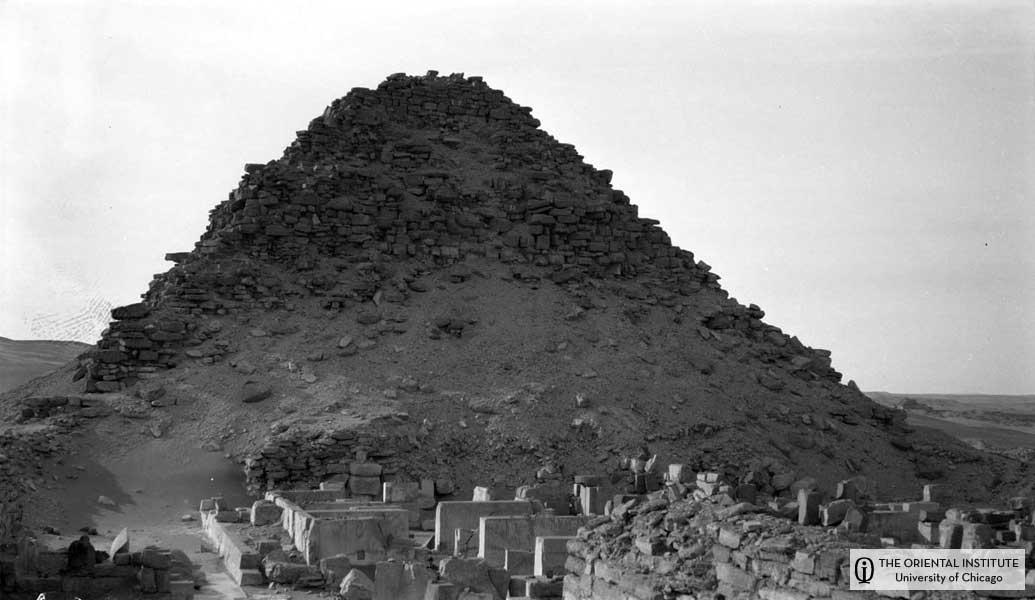 Abusir: The pyramid of Sahu-Ra looking west across the storehouse for offerings. February 9, 1920. (N. 4204, P. 7806)
Abusir (Pyramid of Sahure): Mortuary temple, looking northwest across colonnaded court. Bases and fragments of granite palm columns lie scattered about. February 9, 1920. (N. 4205, P. 7807)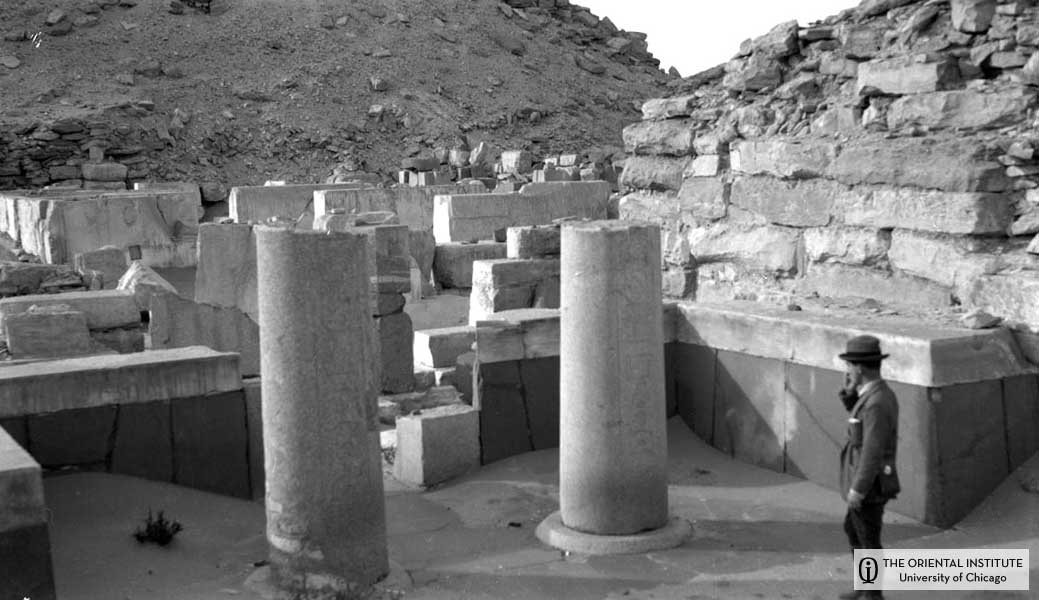 Abusir: Court of pyramid of Sahu-Ra showing entrance, flanked by two palm columns and storehouse for offerings in background. February 9, 1920. (N. 4206, P. 7808)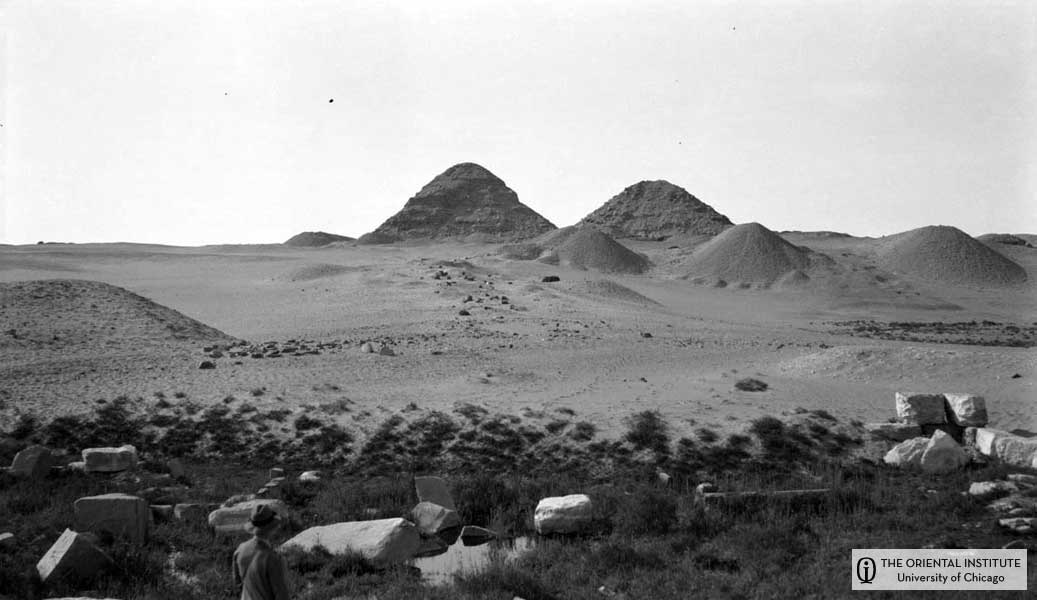 Abusir: View looking northeast to pyramids of Nefer-ir-ka-Ra at the left and of Ny-user-Ra at the right. February 9, 1920. (N. 4207, P. 7809)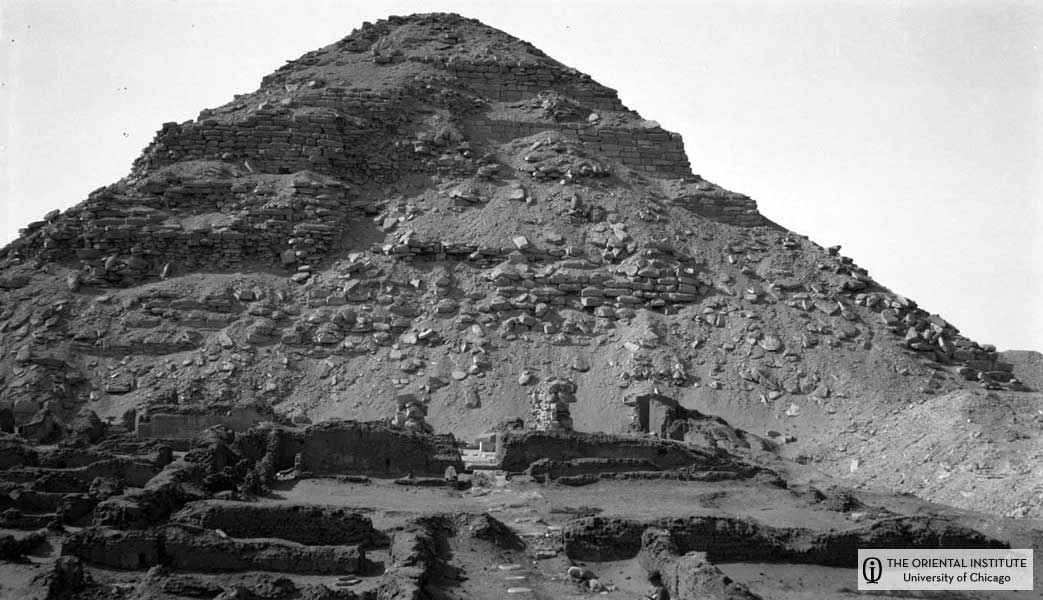 Abusir: View looking across the mortuary temple to the pyramid of Nefer-ir-ka-Ra. February 9, 1920. (N. 4208, P. 7810)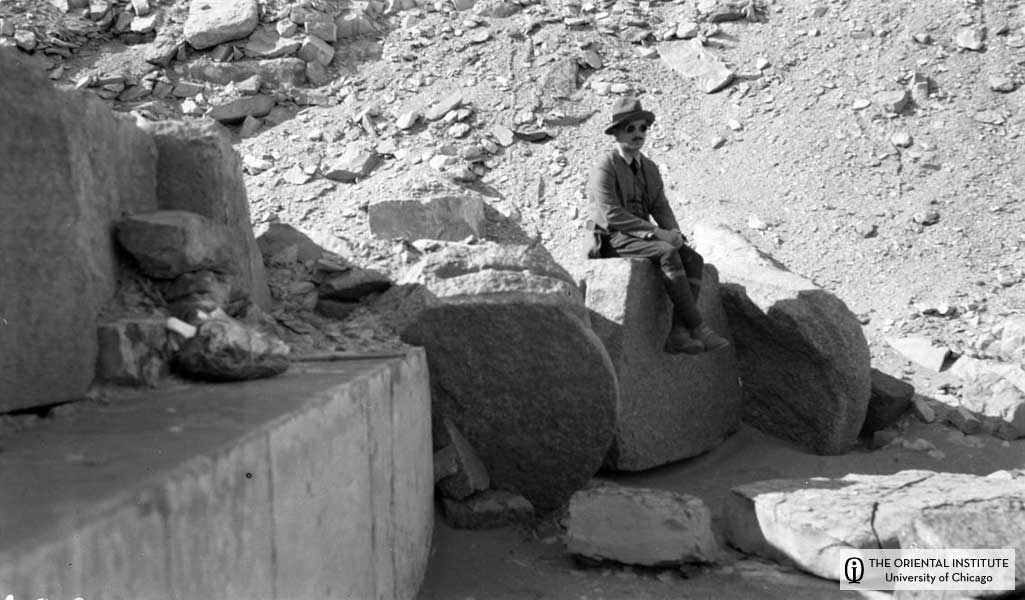 Abusir: Millstones in mortuary temple of pyramid of Nefer-ir-ka-Ra; Mr. L. S. Bull in center suffering from a migraine. February 9, 1920. (N. 4209, P. 7811)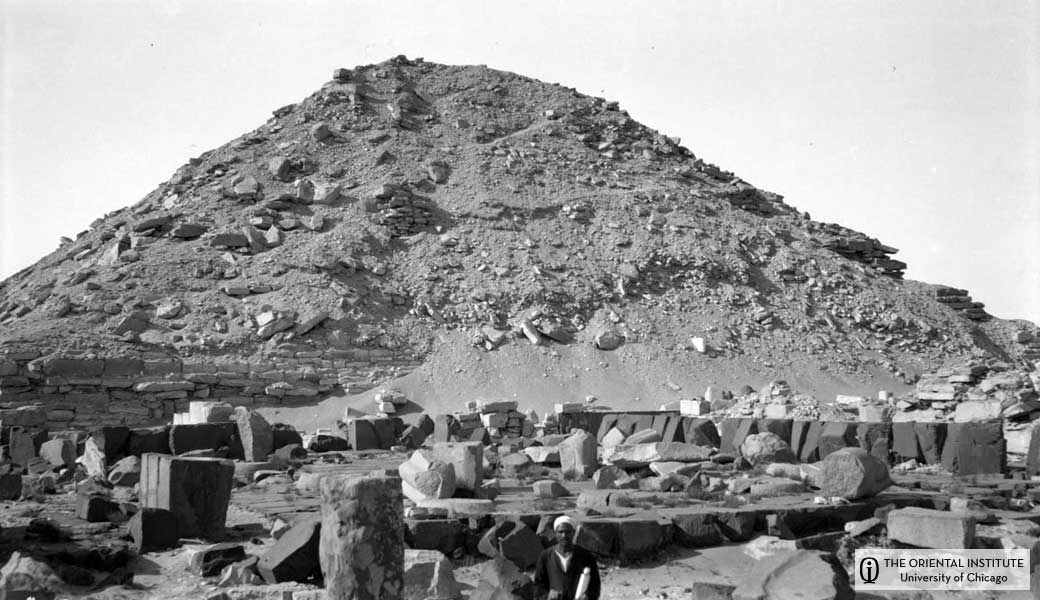 Abusir: View of pyramid of Ny-user-Ra from the southwest, looking across open court of mortuary temple. (N. 4210, P. 7812)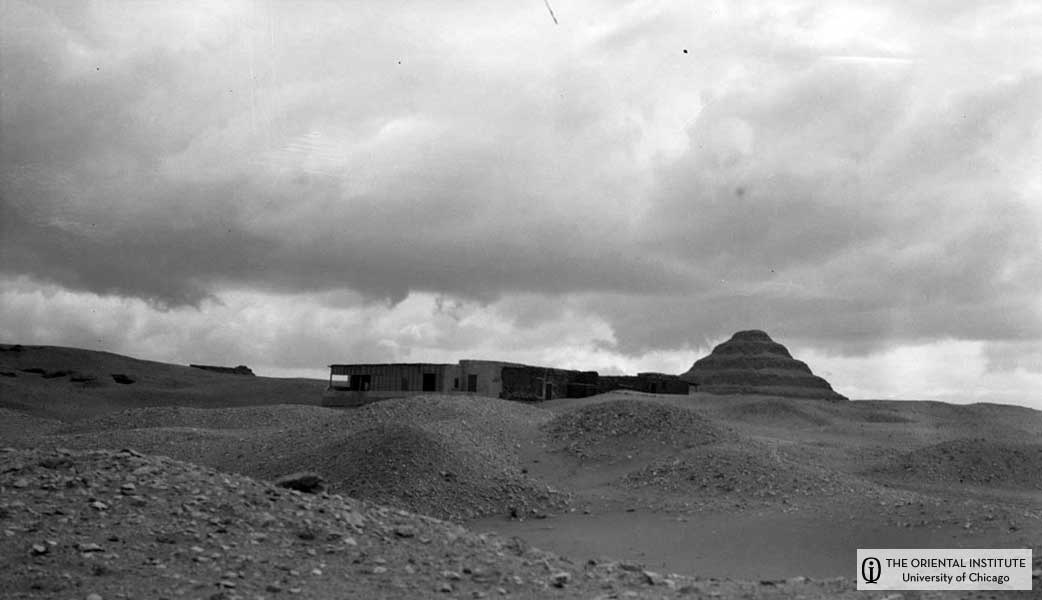 Sakkarah: A view looking southeast to the step pyramid of Zoser, with the house of Mariette in the center. February 9, 1920. (N. 3370, P. 6930)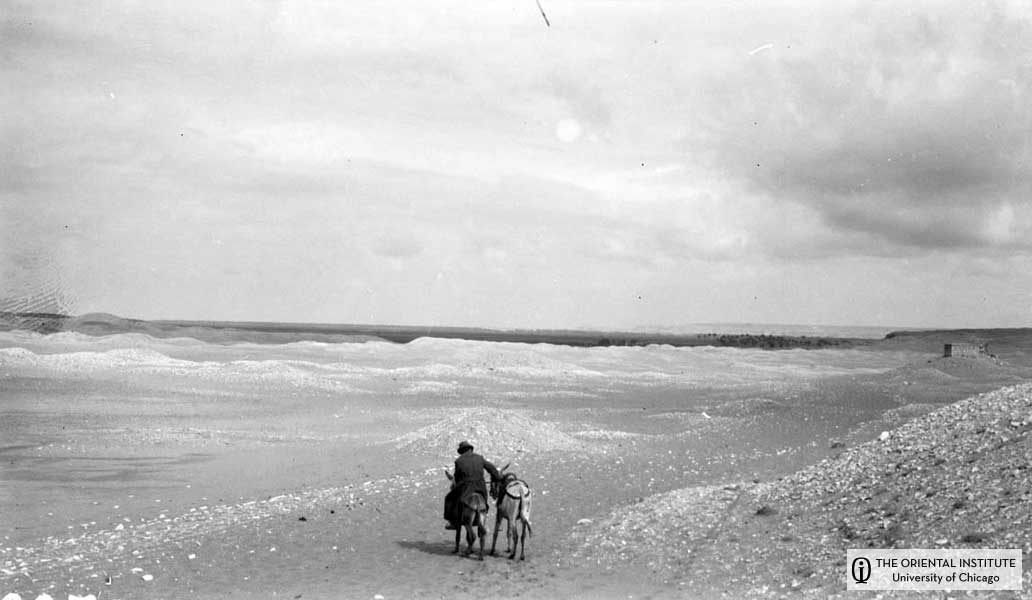 Sakkarah (Tombs of Apis): A view looking northeast across the desert toward Cairo from the Serapeum (the subterranean tombs of Apis). Mr. Sanborn is in foreground. February 9, 1920. (N. 3371, P. 6931)
Sakkarah: A view of the desert near Serapeum. Professor W. A. Shelton of Emory University in foreground. February 9, 1920. (N. 3372, P. 6932)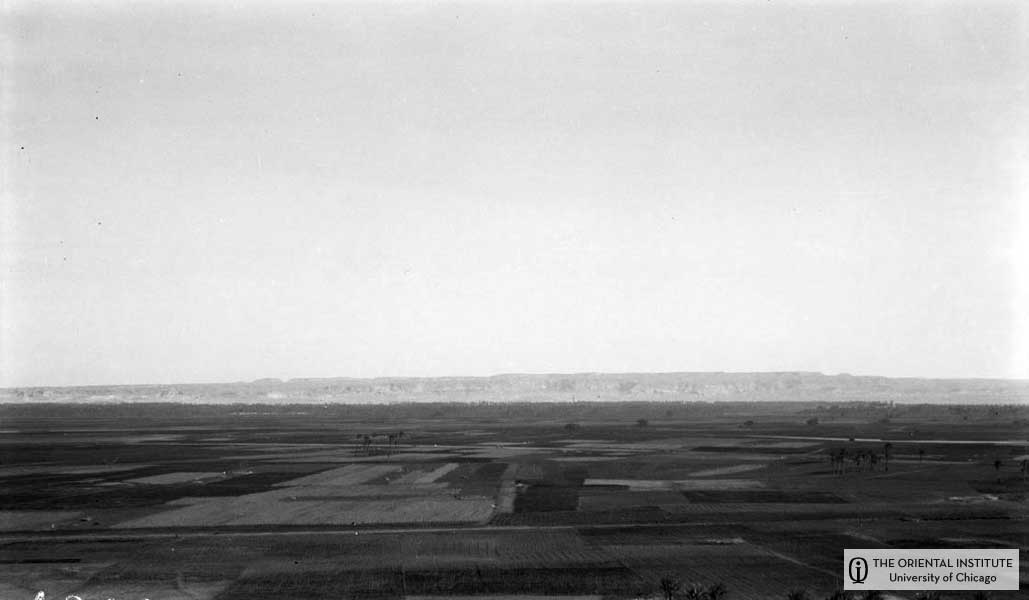 Sakkarah: View looking east from house of Mr. J. E. Quibell. February 9, 1920. (N. 4211, P. 7813)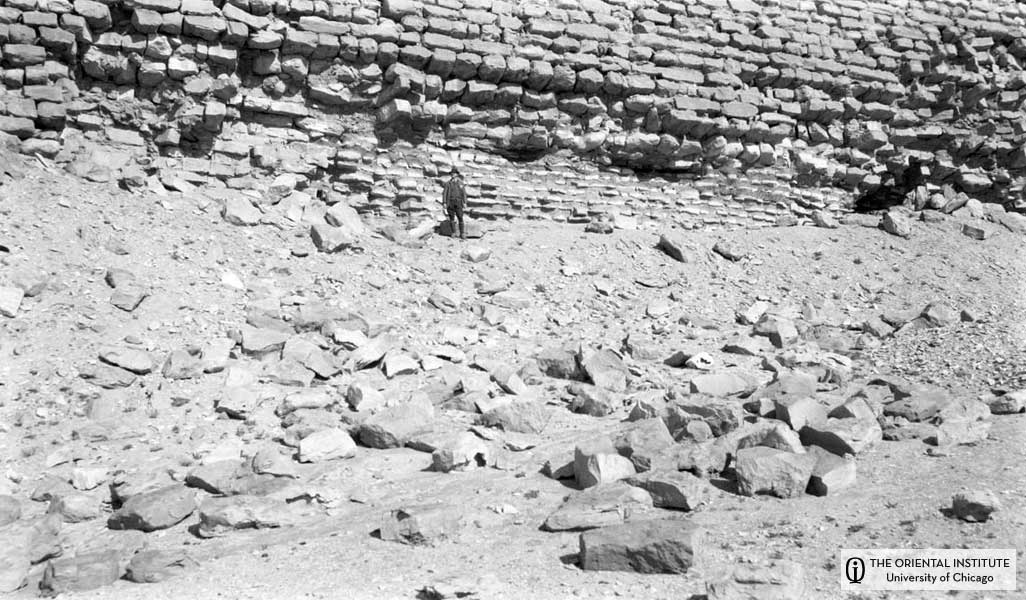 Sakkarah (Pyramids of Zoser): Base of pyramid showing headers and stretchers; figure in center shows height of lower courses. February 9, 1920. (N. 4212, P. 7814)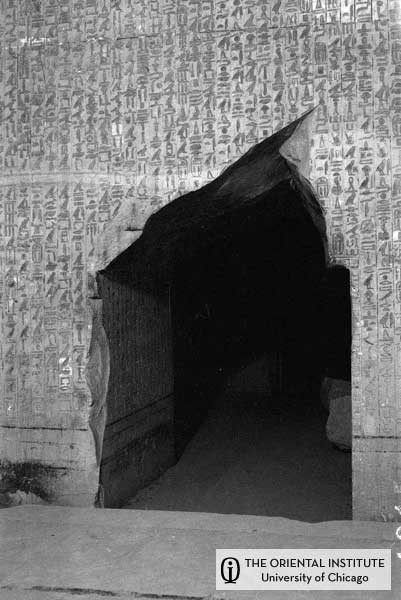 Sakkarah (Pyramids of Unis): Pyramid texts inscribed on wall of tomb chamber. February 9, 1920. (N. 4215, P. 7818)
For the full story of my exciting trip you should come to the special exhibit "Pioneers to the Past: American Archaeologists in the Middle East, 1919-1920," at the Oriental Institute!

1155 East 58th Street Chicago, IL 60637

Hours:

Tuesday 10:00 am to 6:00 pm
Wednesday 10:00 am to 8:30 pm
Thursday 10:00 am to 6:00 pm
Friday 10:00 am to 6:00 pm
Saturday 10:00 am to 6:00 pm
Sunday noon to 6:00 pm
Closed Mondays

http://oi.uchicago.edu/museum/special/pioneer/

And visit me on facebook at: http://www.facebook.com/profile.php?id=3318774#/profile.php?v=info&ref=profile&id=100000555713577
---
[an error occurred while processing this directive]