[an error occurred while processing this directive]
S. S. "Torilla", Indian Ocean
March 3, 1920
My dear ones—
Since yesterday evening we have been on the Indian Ocean again. Just after lunch on Sunday, February 29, we steamed into the harbor of Bombay. We had to wait in sight of the docks however, for the tide to give us enough water to enter the slip and dock. It was four p. m. before we were disembarked, and we sizzled in a blistering sun long after we reached the dock, waiting for permission to go ashore. I had done an over-conscientious thing and declared the tupenny revolver I had bought in London, and I was delayed for a time depositing the thing with a customs officer, where it could be taken up again whenever we sailed. As soon as I could I left the others at the dock to clear the baggage and drove off post haste to the Taj Mahal hotel, the only good hostelry in the city, to make sure we had rooms. We had cabled (instructed by Major-General Hambro in Baghdad) from Port Said asking for rooms and we had confirmed the reservation by wireless from the Indian Ocean two days before landing. I found the Taj crowded to the doors. The manager, a native, showed me reams of similar telegrams, all sent in vain. I met Dr. Chalmers and his wife in a great stew of anger; for he had written and cabled weeks before and had sent twenty pounds as a deposit, and it had all done him no good. The manager told me to go to the Majestic, the Apollo and Watson's, the only other hotels in town. I went to one after the other, and there was not an inch of space at any of them, nor any prospect of getting in later. It was by this time about 5:30 P.M., and the boys were waiting for me at the dock. The native driver said he knew a big hotel and I said go there, double quick. He drove me to a fine looking public building marked: "Passengers' Hostel". I found a native in charge who said, "Yes, we can put you up. Go up with this boy and pick out your beds and bring me back the numbers". It was a laboratory building of the local Institute of Science I believe. I found a huge open laboratory room, perhaps 150 feet long, containing 50 beds. It had been arranged as a hospital and so used during the war, and owing to the shortage of hotel room, had been turned over by the government to be run by Cook's as a shelter for travelers. I found five beds unoccupied, and immediately engaged them for our party.
It was probably 6:30 by the time I got back from the dock and our party, instead of resting in comfortable rooms at the Taj as we had expected, sat down each on his own bed and contemplated his pile of baggage, arranged like sand-bag entrenchments all around, along with a similar array stretching far down the big hall, where British officers and similar unfortunate travelers, stranded like ourselves, were camping out. Then I did an over modest thing. I had in my pocket a letter from Sir Valentine Chirol to the governor, Sir George Lloyd, and another to Lady Lloyd from Sir William Garstin, of which I think I sent you a copy from London. I should have telephoned out to the governor's private secretary. What I had planned to do was to drive out to Government house at tea time and present my letters to the governor and his lady; but that cussed revolver and the endeavor to find rooms for my people had delayed me until long after the tea hour. I was hot and dusty, weary and travel-stained; it would have been dinner time before I could make myself presentable, especially in such a general and promiscuous hostelry as our present quarters, where the wash-room was a pig-pen. There was nothing to do but go to dinner with the boys and be philosophical.
The night was hideous with men coming in until almost daylight, and most of them brutally indifferent to the fact that other men were trying to sleep! At two in the morning I got out and walked down the big hall to ask three men who were cheerily visiting with a big light turned on full blaze, if they would be willing to postpone their session until after breakfast that day. They consented, and when I went back to my bunk I found myself next to the only man in the hall who snored! It had taken him some time to work up to third speed, but he made up for lost time when he shifted into third! At day-break I went to the dirty shower bath to freshen up a bit, but it was witheringly hot and I was rather wilted. Some native boys brought in a big cargo of tea as I returned, and this was comforting.
We could not get any breakfast until nine, and the first task was to secure our berths for the voyage to Bosra. I induced the "Lady Superintendent" to hurry our breakfast, and it was only a little after nine when we got a carriage and hied us to Cook's, the ubiquitous and convenient Cook. On arrival there we found a shining brass sign giving the office hours at 10 to 5! There was nothing to be done but wait as patiently as we could. When we got in the young man in charge of our section said there would be a sailing the next day, but he could not tell me about vacant berths until the steamship line opened for business. I begged to know when this might be and he told me at eleven! I told him I could understand now why the first Mesopotamian campaign, based on India, had failed; he smiled feebly. I spent the rest of a scorching day between the offices of the Steamship company, and those of the British Army Embarkation Officer, to whom I had a communication from Viscount Allenby. The young gentlemen to whom I endeavored to hand this communication, an embarkation captain in the Transport division, replied to my good morning, with the remark: "I am talking to some one else, d'ye see!" As his chief had greeted me with the utmost courtesy, I continued to push letters under the young gentleman's nose, and when he discovered from whom they were, he promptly climbed down. By four that afternoon, having pushed, pushed, pushed without cessation except a short recess at lunch, I had secured five berths for our party on a very comfortable ship sailing the next afternoon. Meantime we had also drawn the necessary money at Cook's, secured 24 hours reservation of five berths for the 15th of June for our return voyage from Bombay to Egypt, and arranged to send a deposit to Naples for our Atlantic reservation next June, besides visiting the American Consul, securing his visa, and a letter to the British authorities ensuring the visa from their office and the permission to embark for Mesopotamia. It had been a grilling day, and when it was over I was all in. It had been quite evident from the start that the captain of the "Benares", who had told me I would have no trouble in securing berths from Bombay to Bosra, had been quite mistaken. What had happened evidently was, that the outbreak of trouble in Mesopotamia had suddenly absorbed the shipping again, and was forcing the British to re-enforce their garrisons on the Tigris and Euphrates.
But while I was engaged with this messy bureaucratic business, Bull, Edgerton, Luckenbill and Shelton toured the city - so while I may not have seen these fine sights, I thought you might like the chance to view the great city of Bombay:
Bombay: A dhow outside the harbor. (N. 44554)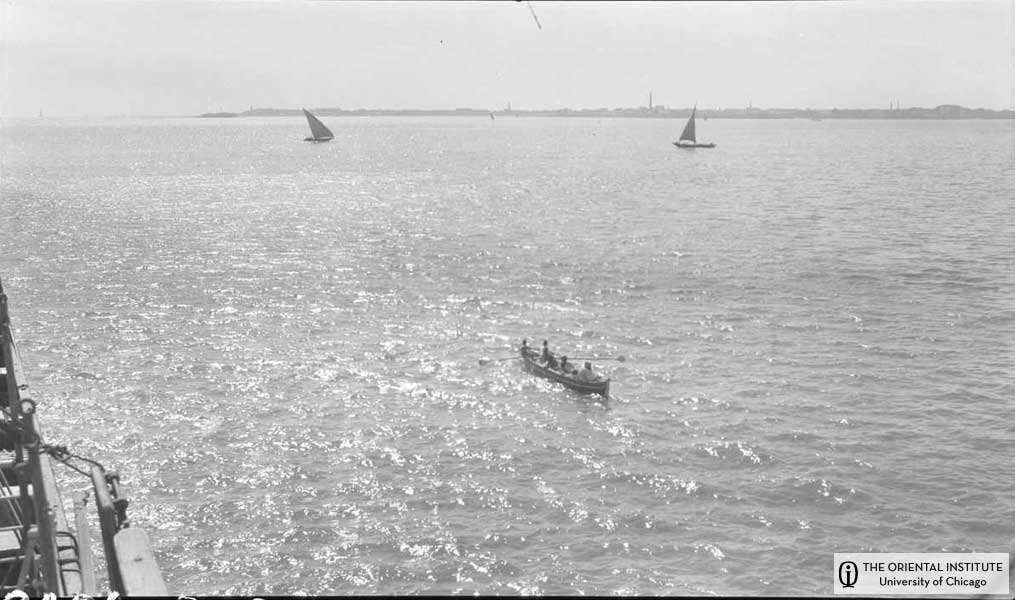 Bombay: General view of inner harbor, showing sailboats in distance and a row-boat with oars similar to those in use in ancient Egypt. (N. 3406, P. 6966)
Bombay: General view looking from Cook's hostel to bay north of city. (N. 3408, P. 6968)
Bombay: General view of city from hanging gardens of Malabar Hill. (N. 3409, P. 6969)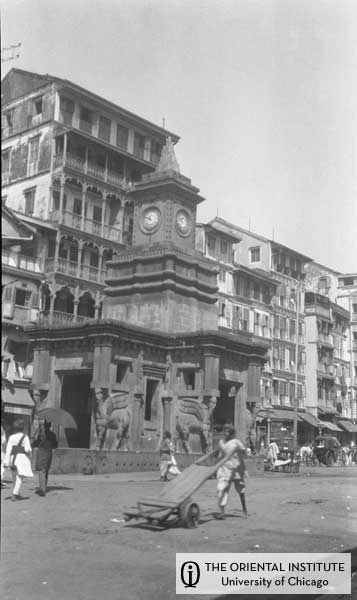 Bombay: Clock-tower imitating Assyrian type of architecture, with human-headed winged bulls at entrance. (N. 3412, P. 6972)
Bombay: High court (N. 3413, P. 6973)
Bombay: General view showing Cook's hostel at left; originally a laboratory, it was used as a hospital during the war, and now leased to Cook. (N. 3414, P. 6974)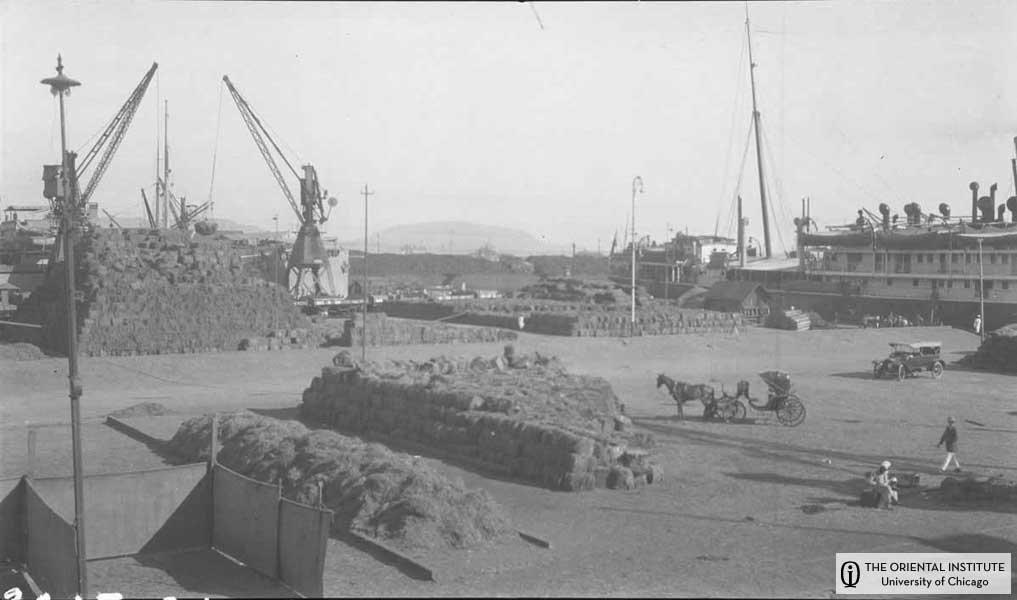 Bombay: Harbor showing steamer Torilla at right, as seen from city. (N. 3417, P. 6977)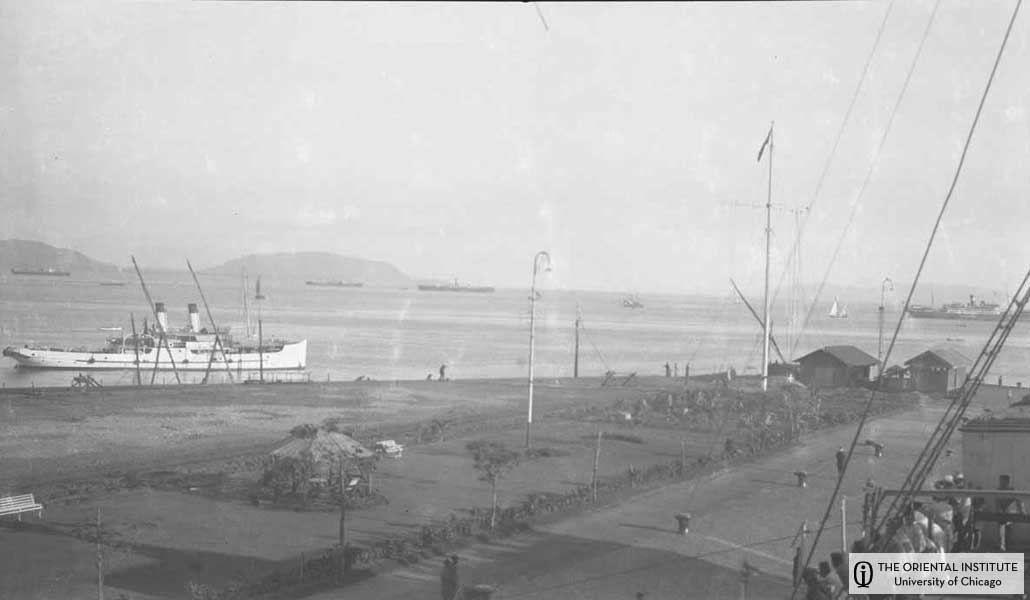 Bombay: Harbor, taken while standing in sluice held by lock. (N. 3419, P. 6979)
Bombay: Tide lock, and an open draw-bridge, at Alexandra dock, Bombay. The SS "Torilla" is about to pass out, bound for Basra. March 2, 1920. (N. 44563, P. 65803)
For the full story of my exciting trip you should come to the special exhibit "Pioneers to the Past: American Archaeologists in the Middle East, 1919-1920," at the Oriental Institute!

1155 East 58th Street Chicago, IL 60637

Hours:

Tuesday 10:00 am to 6:00 pm
Wednesday 10:00 am to 8:30 pm
Thursday 10:00 am to 6:00 pm
Friday 10:00 am to 6:00 pm
Saturday 10:00 am to 6:00 pm
Sunday noon to 6:00 pm
Closed Mondays

http://oi.uchicago.edu/museum/special/pioneer/

And visit me on facebook at: http://www.facebook.com/profile.php?id=3318774#/profile.php?v=info&ref=profile&id=100000555713577
---
[an error occurred while processing this directive]