Guest post: Student Government kicks the bottle
Guest post by Forrest Scofield, a first year in the College and a College Council Representative
Over the past few months, the University of Chicago has become the latest to engage in the nationwide movement to reduce bottled water consumption. Green Campus Initiative, a student run organization at the University, has been working hard to promote this reduction. Recently, GCI partnered with the Student Government Assembly to expand awareness about the issue.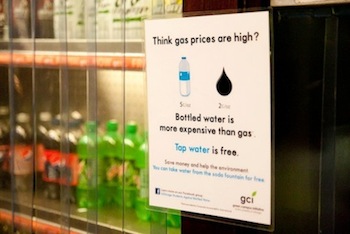 Myself along with Youssef Kalad, a third year Student Government representative, drafted a resolution in support of GCI's movement. Three weeks ago, we presented the resolution to the Assembly and listened to their concerns and suggestions regarding bottled water consumption on campus.
The discussion that ensued was lively, and many insightful and constructive comments resulted from it. Concerns were raised about the lack of sustainable alternative sources of water on campus, especially for RSOs to use at events. Bottled water's important role in large events like convocation was also a concern. Initially several representatives opposed the wording of the resolution; some thought it lacked a sense of direction and others thought the information lacked credibility. Several graduate students discussed the disconnect between the college and the graduate schools; several hadn't heard of the initiative previous to the presentation. The majority of the graduate representatives expressed interest in connecting their divisions to the conversation. 
Two amendments were eventually added to the resolution: one that expressed Student Government's intention to reduce the availability of funding for bottled water at student run events, and another to include the deans of the graduate divisions to the list of notable recipients.  
The resolution eventually passed 14-6. The negative votes seemed to be based on the semantics of the document, but in general the intentions of the resolution received warm support from the Assembly. 
With the support of the resolution in hand, I will be working closely with Green Campus Initiative, Joe Sullivan, and the Office of Sustainability to expand our effort to the graduate schools and discuss ways to provide student organizations free and sustainable water alternatives. 
For further information, please check out our Facebook page or shoot me an email at fscofield@uchicago.edu.
For more, view the final resolution and the Maroon's coverage.
Photo courtesy of UChicago Students Against Bottled Water