Avant Garden: An Uncommon Collaboration
The Smart Museum, Facilities Services, and Court Theatre have formed an unprecedented collaboration—converting a dormant green space for a project called "Avant Garden." University staff and interns volunteered to transform a large empty lot between the Young Building and Smart Museum into a common space for interaction, production, and innovation. Thanks to the efforts of volunteers from the three departments, the plot sprung to life within a matter of hours.
The Office of Sustainability convened volunteers from Smart, Court and Facilities to work together sowing the space. Many volunteers lingered to admire their work; proud of their efforts and the resulting beauty of the space. University community members passing by stopped to inquire about Avant Garden and spent time with the volunteers.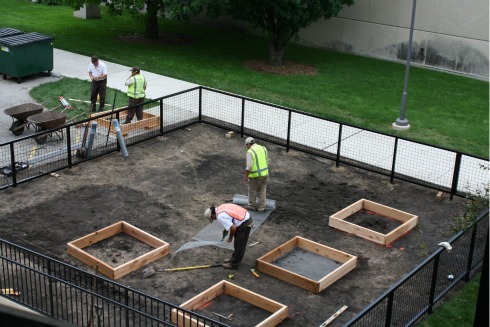 Avant Garden's designer, Kathleen Golomb, is currently a Facilities Services intern. She previously managed the planters along Michigan Avenue and has appeared in episodes of PBS' P. Allen Smith's Garden Home. Her plan for the space was to make it both functional and beautiful: while the herbs and vegetables will be harvested, she strategically placed the plants in locations that emphasize their aesthetic qualities.
We hope the space will serve as encouragement to the campus community to consider the many ways that green space can be enhanced, utilized, and valued. The benefits of this uncommon collaboration will continue to grow and evolve, just like Avant Garden.