From floor to bench: artistic repurposing at its best
Once upon a time, in a land far far away (we're talking on the other side of the Midway here), there lived many lovely slabs of concrete all nestled together forming the floor of Midway Studios. Thirty years of artists spilling or splashing paint on them made these six-inch thick slabs subtly colorful. After plans were drawn up for the new Logan Arts Center, an annex of the building previously used as a painting studio was torn down. While many doors and fixtures were donated to the Rebuilding Exchange, David Wolf, Director of the Visual Arts Resource Center, and a group of students and alumni saw potential in the paint-stained concrete floor. A demolition crew sawed the concrete into four-foot by one-foot slabs and saved them.
In order to determine new homes for these slabs, Wolf and Richard Bumstead, Associate Director of Campus Environment in Facilities Services, held a collaborative design session during Earth Week 2010. The workshop engaged students in drafting creative re-uses for the building materials.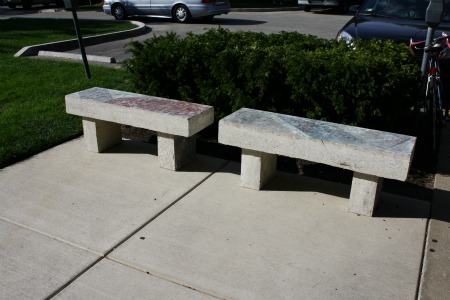 The concrete slabs have very recently been repurposed as benches and a select few sit in front of the Young Memorial Building, home of Facilities Services, the Smart Museum Offices of the Director and Development and External Relations, and the University of Chicago Police Department Community Services Bureau. The sustainable seating borders the walkway to the building, where staff members take a minute to sit and make calls or enjoy the weather. Thanks to some clever reworking, these industrial chic benches give a whole new meaning to sitting on the floor.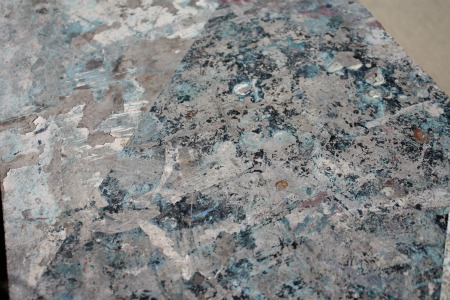 Keep your eye out for these benches around campus - sustainable seating at its best!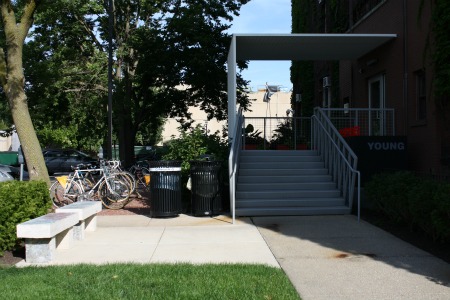 First Photo courtesy of David Wolf