SAGE Advice: All I want for Christmakwanza is to be green
Update: Ready to recycle your holiday tree? Participating sites across Chicagoland will be open January 7-January 23.
Jingle bells are ringing and somewhere there's definitely a choir singing about snowmen or famous reindeer or mistletoe or everyone's favorite jolly Saint from the North Pole. Yes, now that we have successfully gorged on turkey and stuffing, it's time to bring in the "most wonderful time of the year." But as you hang the stockings by the chimney or spin the dradle, consider making this holiday season a green one. Try taking our advice between singing carols and we think your festivities will go down in history.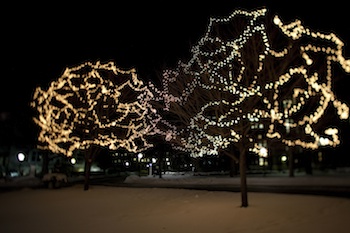 Hosting a holiday party? Whether you're planning on ringing in 2012 or simply gathering a group to light the menorah, be sure to be mindful of the setting. Incorporate local, organic vegetables into your spread and think about going for chicken or turkey over beef. Poultry options require 85% less water and 75% less fossil fuels* than beef production. Also, remember to go with reusable silverware and plates—your guests deserve the best (and so does the environment)!
Hitting the road for the holidays? Before you pack your bags and leave the office, dorm, or your apartment behind, be sure to power down your electronics. Take part in the University's Power Down by ensuring your lights and computers are off for the holiday season.
For those who love to play Santa, think outside the box—literally. Think about buying concert tickets or gift cards to sustainable restaurants (for you Chicagoans, check out this list!), or other gifts that require little or no packaging. If you're out of ideas or married to the idea of a tangible gift, consider looking into businesses that sell clever gifts made from repurposed materials.
Dress your home and your tree in the very best: deck your halls with LED lights, which use 95% less energy than conventional lighting options. You can also save $50 in electricity costs this season if you make the switch.
When the eggnog is gone and the ornaments come off your tree, recycle it! Don't throw it into the fireplace, as burning the bark can contribute to creosote (a toxic preservative) buildup. Instead, recycle the tree for free by bringing it to a Chicagoland park. More details will be announced by the City of Chicago later this month.
Perhaps I am sentimental or old-fashioned, maybe I sound like your grandfather, but remember that 'tis the season to be jolly—not the season of presents, epic deals, or overindulging on latkes. The holiday season can be an exceptional part of the year, a time to spend with those we value most in our lives and not the stuff we quickly tire of and hoard. So I'm offering this simple thought, for kids from one to ninety-two—as you sip hot chocolate and watch the frightful weather (from indoors, hopefully), remember that this is a time to be merry with the people we love. We wish you and yours a delightful holiday season.
* Rogers, Elizabeth. Shift Your Habit: Save Money, Save the Planet. New York: Three Rivers Press, 2010.