Recycling Ninja
Guest post by Nate Granatir, SAGE Ambassador and Chicago Booth employee
Over the past year, the SAGE Waste & Recycling Committee has begun several initiatives such as improving recycling signage, rethinking the placement of bins at Hutch, and selling "green" Blue Books at the bookstore. But rather than simply harass people about recycling at Earth Fest 2012, we decided we wanted to do something more fun. What we came up with was a game called "Recycling Ninja," inspired by Fruit Ninja, with which we've wasted many hours on our iPhones.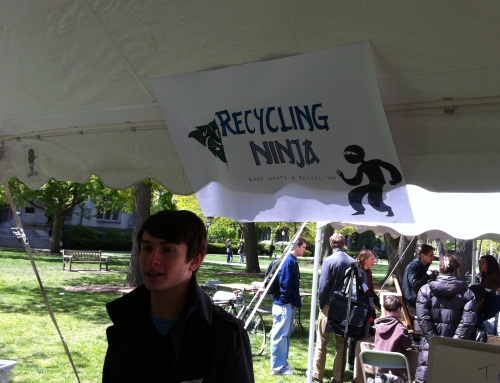 The game was deceptively simple: armed with a large blue recycling bin (and an optional ninja headband), catch all recyclable items but nothing that can't be recycled. The fun part was actually ours - we hurled as many items as we could at participants for 30 seconds.
The prize for winning? Well, nothing, except a sticker and admiration for placing in the Top 10. If you'd like to be a Recycling Ninja too, look for us at the upcoming Wellness Fair on Wednesday, May 16th, between 11:30am and 1:00pm on the main quad!