Facilities Services: January 2012 Archives
The University of Chicago has made a commitment to become a more bicycle-friendly campus. As a part of this commitment, and in an effort to support the City of Chicago's aim to become a leading city for cyclists, Facilities Services has established an updated Abandoned Bike Policy (PDF).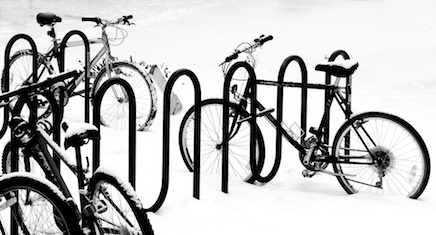 Any abandoned or improperly locked bike is subject to removal by Facilities Services. The impounded bicycle will be stored at the Young Building, 5555 S. Ellis Avenue, for 10 business days. After 10 business days, the bicycle will be donated to charity. This policy is intended to help maintain the safety and beauty of the University of Chicago's campus, to manage the capacity of existing bike racks by removing abandoned bikes, and to ensure accessible walks and ramps are maintained.
While Facilities Services regularly removes improperly locked or abandoned bikes throughout the year, two formal campus bike sweeps take place annually: one at the conclusion of Fall Quarter and another prior to Spring Convocation. Over the past year, the University has donated over 70 bikes to recycles partner, Blackstone Bicycle Works.
To report abandoned or improperly locked bikes, or to request additional bike racks, please telephone the FS Service Center at 773-834-1414.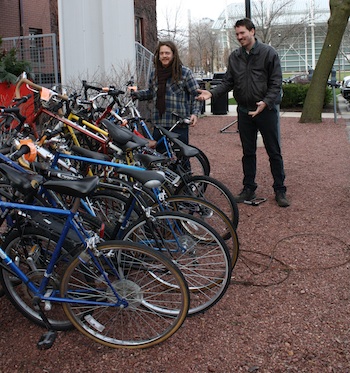 Aaron Swanton and Chris Willard from Blackstone Bicycle Works were surprised by the number of bikes ready for donation this past December.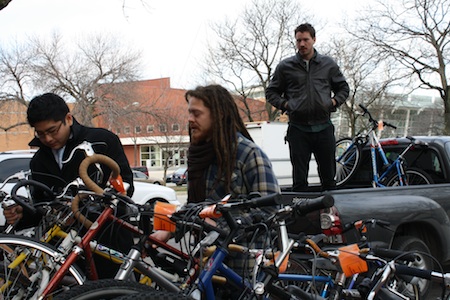 Kevin Ahn, Facilities Services' Client Services Manager, assists Blackstone with the most recent bike donation.