Try Meatless Mondays
Guest post from Esther Bowen, Sustainability Council Co-Chair and doctoral candidate in the Department of Geophysical Sciences.
Did you know that you save 320 gallons of water when you choose to eat oatmeal and an apple over sausage for breakfast? On January 26, I had the chance to share this, and other facts, with students at the Graduate Student Wellness Fair hosted by the Wellness Committee at the law school. After some spirited debate and discussion, the attendees came away with a more in-depth understanding of the environmental issues that surround meat production, as well as how the Sustainability Council Meatless Mondays campaign is helping to draw attention to these problems.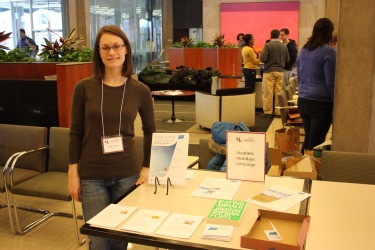 The Meatless Monday campaign features information on concrete environmental savings from reduced meat consumption in terms of land, water and climate resources. Wellness for the environment in this case also means wellness for the individual, since reduced meat consumption is also generally associated with a variety of human health benefits. For this campaign, we will be sharing information on these environmental benefits at University dining halls on Monday evenings, as well as at events like the Wellness Fairs. In addition to this intriguing information, we will offer students the opportunity to pledge to try one meatless meal this week. If students agree to take a pledge, their names will be entered into a raffle for the book Eating Animals by Jonathan Safran Foer. The raffle drawing will take place 10th week of this quarter! For more information on this campaign or to volunteer, please contact Esther Bowen at eebowen@uchicago.edu.