Earth Week 2011 Recap
The theme for this year's Earth Week was Food: You are what you eat. Do you know what you are? Playing off the horror flick "Children of the Corn," we hoped to draw attention to the serious food issues facing us today, including the prevalence of corn in our food. With the support of our partners, including Green Campus Initiative (GCI), the Special Collections Research Center, the Spiritual Life Office at Rockefeller Chapel, the University of Chicago Community Service Center, and the Office of the Secretary of the University, Sustainability at the University of Chicago hosted numerous events throughout the week.
We want to thank the University community for making Earth Week 2011 such a success—we could not have done it without you!
To view the full Earth Week 2011 schedule, click here. If you have any comments on our programming during the week please send your feed back to: officeofsustainability@uchicago.edu.
Guests at our keynote event: Adam, Malcolm, Martin, and Food: Inalienable Resources, serve themselves before listening to Brandon Johnson, Executive Director of the Washington Park Consortium, speak about urban agriculture and food through the lens of civil rights leaders. This dinner event was catered by Hannah's Bretzel and Argo Tea. Photo by Vikram Dwarkadas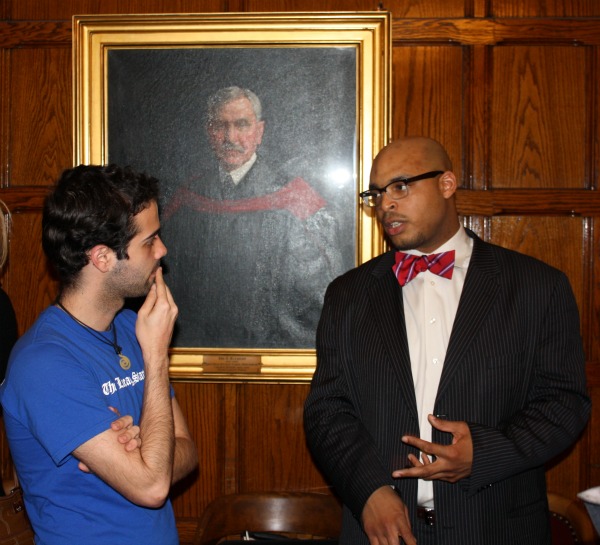 Ignacio Tagtachian, AB '11 and Sustainability Intern, talks with keynote speaker, Brandon Johnson, Executive Director of the Washington Park Consortium following the event. Attendees lingered after the event to speak further with Mr. Johnson, as well as discuss issues at hand with one another. Photo by Colleen Lanier Christensen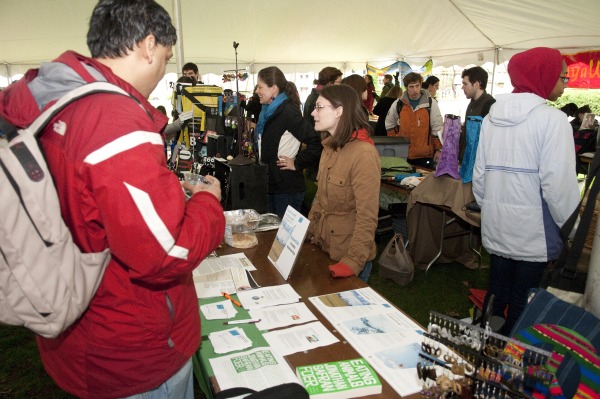 Vikram Dwarkadas, Senior Research Associate in Astronomy & Astrophysics and SAGE Ambassador, stops by Earth Fest's Meatless Mondays table to say hello and to check out other organizations at the event. Nearly 30 vendors from around Chicago and several University organizations participated in the University's largest outdoor green festival. Photo by Lloyd DeGrane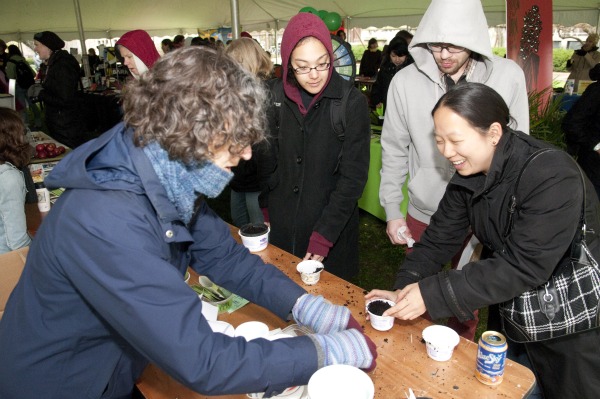 Ingrid Gould, Associate Provost for Faculty & Student Affairs and SAGE Ambassador, instructs Earth Fest attendees how to plant their own herbs. Over 100 people planted parsley, endive, dill, and cilantro seeds to take home and grow. Photo by Lloyd DeGrane
Don Stiernberg and Robbie Fulks weathered the rain to perform from 12-1pm on the Main Quad. Attendees enjoyed the lively performance while having lunch and taking refuge from the rain. Photo by Lloyd DeGrane