UChicago bookstore to feature bike accessories
Over the past few years, an increasing number of students, faculty, and staff can be spotted navigating campus on two wheels. Both the University's honorable mention as a Bicycle Friendly University last spring and its 77% increase in department participation in the City of Chicago's Bike to Work Week between 2010 and 2011 speak to this shift in the culture of biking on campus. In response to this, the University of Chicago bookstore will begin offering bike supplies and accessories on its second floor this spring.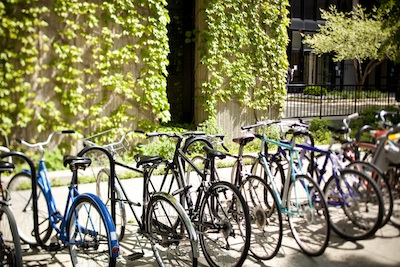 The assortment will first include lights, locks, helmets, leg bands, water bottle cages, pumps, and a patch kit. As demand increases and the line of products becomes popular, the bookstore staff will consider expanding the range of products. Currently, the line features non-emblematic items but could, in the future, include helmets or other accessories with UChicago emblems.
At the Spring Wellness Fair, scheduled to take place on Wednesday, May 15th, the bookstore will be offering a 20% discount on bike helmets when you register your bike with the UCPD. Other discounts can be seen on the bookstore's facebook page. Erin Smith, Assistant Store Manager, hopes that this line will, "meet the needs of our biking community, and support the movement for sustainability on campus."