Events: April 2012 Archives
UChicago, as of late, you've been veering away from bottled water and diverting your fair share of food waste from landfills. Green Campus Initiative (GCI) has noticed many of your wonderful efforts, and we wanted to make sure everybody else took notice as well.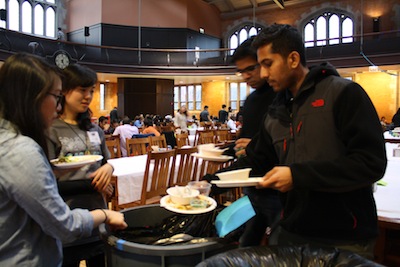 Students compost their plates, cups, utensils, and leftover food at the South Asian Students Association Annual Cultural Show on Saturday, March 31.
Thus, we have worked with the Office of Sustainability and ORCSA staff to bring you a brand new Green Event Certification program! The aim of the program is simple: to raise awareness for Registered Student Organizations (RSOs) that are committed to reducing their environmental impacts, and to encourage other RSOs to do so as well.
How does certification work, you might wonder. Well, the process is simple! You perform a self-assessment of and we verify the amount of "green" actions your RSO has taken (in planning an event) by having you fill out a checklist. Each item on the checklist is worth a certain number of points, and if you accumulate 5 points, then you earn certification for your event! If your RSO has taken additional measures that are not mentioned on the checklist, you can detail those actions in a special "Innovation" section and receive points for those deeds as well.
Once you send your completed checklist to greencertification@lists.uchicago.edu, we will verify your "greening" efforts and notify you of your certification achievement. As I mentioned previously, you only need to accumulate 5 points to achieve the SAGE Certified designation. However, if you go above and beyond (by accumulating 8 or more points), your event will receive the honor of SAGE Certified Plus!
After your event is certified, we will send you a special seal that you can display on event advertising and on your RSO website. As an added bonus, we will advertise your event on the GCI listhost and your RSO's greening efforts will be recorded on the Office of Sustainability's website.
So, what are you waiting for? Fill out that checklist and start receiving the recognition you deserve!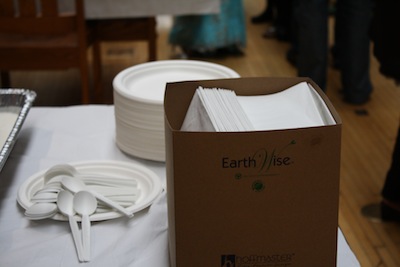 Points towards certification can be earned by purchasing recyclable and compostable tableware (above) and composting all food waste at your event (below).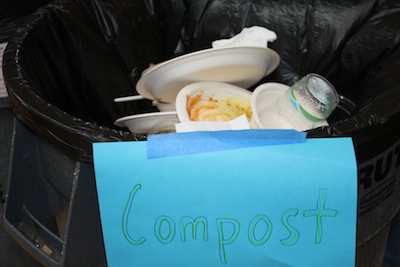 Points can also be earned by serving water in coolers, rather than offering bottled water (below).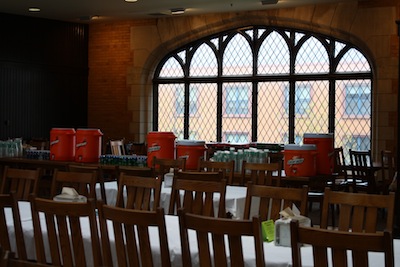 Join us Thursday, April 26 for a tour of The Plant, a once abandoned meatpacking facility that is now being repurposed into a net-zero energy vertical farm and food business incubator. See below for details!
When people talk about the future of food, you could hear "I don't really care," or "WE ARE ALL GOING TO DIE!!!" or anything in between. Regardless of where you fall on this spectrum, you should check out The Plant. The Plant is a Chicago social enterprise trying something new in a very old building.
Now, allow me to regale you with the story of the Plant.
Let me give you a little snap shot of what goes on.
That's right, The Plant looks like a big food web. Don't worry, I didn't read your mind, that's what we thought too.
The Plant has a celebrated mantra of "The only thing that leaves is food." We can add beer, fertilizer, jobs, and kombucha to that list, but you get the idea. What we see above is the manifestation of the old adage "One man's trash is another man's treasure." Spent barley from the brewery is used to feed fish; the waste from the fish is fed to plants and used to generate gas, which powers and climate controls the entire building; and so much more.
These beautifully closed loops are made possible by a few major factors.
Aquaponics By growing plants and fish together, you use up less resources. No more fertilizer purchases, the fish provide nitrates for the plants. The plants in turn clean the water by absorbing a lot of that waste, making the water habitable for the fish.
Anaerobic gas digestion An anaerobic gas digester uses microbes to turn organic materials, such as food waste, into biogas and nutrient rich sludge. The biogas is then burned to produce steam. The steam then generates electricity and heats/cools the building. The CO2 from burning the biogas can then be pumped to the plants that use it to grow faster.
Incubating new sustainable businesses This is the kicker. By incubating small sustainable businesses, it becomes possible to close the loops even further. The Plant currently features many artisanal food businesses, including a beer brewery, a bakery, a kombucha (fermented tea) brewery, and a mushroom farm. Spent grain is used to grow mushrooms, food waste from the commercial kitchen goes into the anaerobic digester, the algae and duckweed from the digester is fed to the fish, and more. When we all work together, we all win. In natural systems, there is no waste. Everything is reused and recycled by something else. Everything in a natural system is decomposed and provides sustenance for something else.
Though none of the technologies used are new, it is a rare treat to see them working together. You also don't get many chances to tour a brewery, an aquaponics system, a mushroom farm, and restaurants at the same time.
Join us on a tour of The Plant during Earth Week, Thursday, April 26, 2:15-4:30 PM. Co-sponsored by Chicago Studies. Please send your RSVP to itagtachian@uchicago.edu by Friday, April 20. Space is limited on this tour.
You don't want to miss this.