Thanksgiving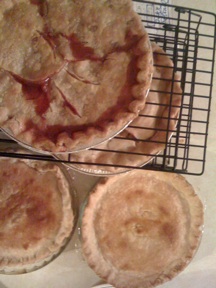 My mom's extended family converges on Kansas City every year to celebrate Thanksgiving with my grandparents. At age 89 and 93, they're sharp of mind but depleted of body--my grandfather, in particular, seems hollow-boned and fragile, in need of nourishment beyond the reach of the food-related rituals that fill our time together. These rituals have been shifting lately, in subtle but crucial ways. Wednesdays, for instance, have always been devoted to baking pies ranging from classic pumpkin to our own holiday variant, the sweet-tart slice-o-lemon (see two of them at the bottom of the photo).

Grandma has historically been Queen of Pies, but over the past few years she's grown more tired, we've grown more capable and more numerous, and the numbers of pies have increased, so we grandchildren have done more of the baking. This year, seven of us made six pies that were consumed to the last crumb by 17 children, grandchildren, spouses, and friends. Grandma stayed out of the kitchen except for a bit of hands-on correction--teasing and a bit acerbic, sweet-tart as the lemon pie.
This transition-in-the-kitchen got me thinking about generational shifts as they play out around meals. I've been doing a "Harvest Feast" for years, which is essentially Thanksgiving with friends: I pull out the china and we drink a lot of wine and indulge in dishes that riff on classic flavors but aren't bound by them. These two big meals satisfy overlapping but distinct needs; I love my family's interpretation of the classic Midwestern feast as well as this other epicurious-inflected version, and I'm glad they both can run in parallel rather than one supplanting the other. This feels relevant to
Feast
. The show will cover several generations of artistic practice going back to the early twentieth century--its chronological range is, in fact, close to my grandparents' lifespans, although that's simply an elegant coincidence. Like our Wednesday of pie-baking, the exhibition will, I hope, prompt some consideration of change and continuity back across time (as well as out across cultures, a topic for another post). The materials and rituals that we chose to retain and to jettison and to rediscover over time offer clues to who we are--as individuals, as families, as communities, as nations--and that's equally true in cooking and in art-making.