Feast artists: October 2011 Archives
The studio and classroom spaces of the historic Lorado Taft building of the University of Chicago's Midway Studios are like attics in an old house. They are lofted and beamed, and in this transitional year as the department prepares to move into the
Logan Arts Center
, piles of supplies and debris stand both as monuments to the logistics of moving, and, last spring, of classes preparing for finals. Stacks of paper covered surfaces, corners of rooms cluttered with charcoal, wire, and foam; underneath a staircase was a neat pile of deconstructed electrical appliances. In another incarnation, the room where Stephanie and Laura's Food for Thought class met last spring could have been a Victorian sitting room, with bay window and lavender-painted molding. As is, a couple of tables pushed together take up most of the room, and on the day of
Michael Rakowitz's
visit, these were taken over by ingredients: peppers, onions, bags of lentils and rice, bottles of oil and spices, ground beef, hot plates, and glass cutting boards bearing Michael's
Enemy Kitchen
logo.
In many ways, the character of Michael's spread matched that of Midway's material sprawl: an idiosyncratic combination of bought and found, hunted, gathered, and on loan, as if part of a work-in-progress. As Michael introduced us to the ingredients and his recipes we prepared together for our lunch, he described how creating a migratory cooking space can also be a rhetorical strategy. Setting up these somewhat impromptu, collaborative cooking sites, as he has in his Enemy Kitchen project, becomes a way to forge an inclusive role for himself as artist, teacher, and cook, as a facilitator: the one who starts bringing all the necessary elements together so that the rest of the experience can unfold. In order to make our lunch, we borrowed pots from one student and a hot plate from another; in between stages we ran bowls down to the nearest sink in the basement bathroom to be washed.
Both in previous iterations of Enemy Kitchen, and in his project for
Feast,
Michael has been interested in developing a form to reflect the multi-dimensional processes of cultural exchange. His project utilizes the capacities of cooking and eating to foster sites of exchange, while also using them to foreground and refute the general absence of Iraqi cuisine from American consciousness. In this way, Michael's project provokes questions about what we have access to and why or why not: about how to exchange that which we don't seem to be able to exchange. The bought ingredients and borrowed supplies function as he does, as facilitators. In Michael's practice, cooking becomes a means of facilitating another kind of practice: that of recognizing and expressing our embedded relationships to Iraq, to nationality, to family, to media consciousness, and to war. At lunch last spring we talked about Michael's plans for his food truck project for
Feast.
As those plans become more actualized over the next few weeks and months it will be interesting to see what roles cooking and eating develop, and how the logistics of dealing with Chicago food truck regulations becomes another kind of facilitator.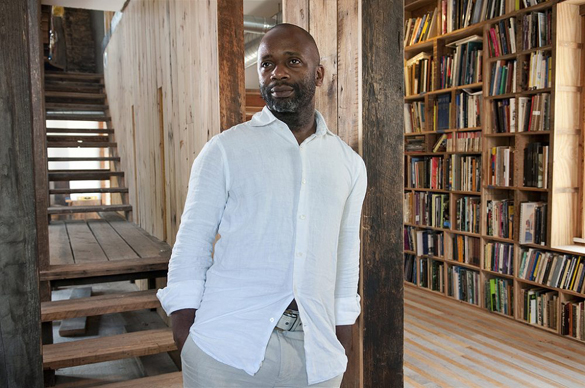 Theaster Gates has been named the inaugural director of the Arts and Public Life initiative at the University of Chicago:
Gates will work to realize the initiative's major goals: advancing artistic ambition through a program of artist residencies, amplifying cultural assets by promoting interactions between artists and cultural institutions on the South Side and the University's faculty and students, and inspiring creativity in youth through apprenticeship programs and enhanced K-12 arts education efforts.

"Arts and Public Life is a way of framing how we imagine our relationship with our neighbors," Gates said. "It also gives us a chance to hone in on ways that the University's friendship to the South Side could be extended, and think about how the facilities at the University and the vast artistic knowledge that surrounds this place could act as platforms by which other emerging artists in the city could benefit."
These issues of community, hospitality, and arts have been central to Gates's work as an artist as well as an arts administrator, and will take on another public, participatory form in his Soul Food Pavilion project for Feast.
Photo by Lloyd De Grane.