Roller Derby, Urban Ag, Cutting Edge Music: Student Films on June 5
DOC U 2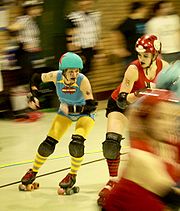 Student Documentary Showcase
Friday, June 5 from 6 to 9 pm.
Film Studies Center, Cobb 307

A fantabulous showcase of recent short works produced by the students in Judy Hoffman's Documentary Production course. "Spanning an impressive array of subjects, from the ideological and tactical role of
army combat uniform
in the U.S. military and the imminent extinction of the
hipster community in Chicago
, to counter-cultural movements like the
Lolita
fashion, Chicago's own fierce and world-famous
Roller Derby
Women's league, as well as
urban agriculture
task forces and the city's cutting edge music scene. This extraordinary program is a witty and insightful exploration of Chicago's unique soundscape, unexplored corners, and most colorful characters."
Some related sites I recommend:
Image is from Windy City Rollers.