'You Gotta Go Get It': Caesarei Marsh of the Living Room Cafe in Woodlawn
As a child, Caesarei Marsh was very independent - in ways not always to his own benefit. At nine years old, he was already roaming the streets of the South Side and abusing drugs. He's been through a lifetime and a half of tragic events - being shot, time in prison, you name it.

This however is not the end of his story. Though he took a tumultuous path, his individuality also gave him the ability to become a powerful vehicle for change in his community later on in life. Caesarei now works as a case manager at Inspiration Corporation's Living Room Café at 64th and Cottage Grove - the same place that helped him get off the streets. [The Living Room Café was founded in 1995 by SSA Alum Jennifer Kihm (AM '94).]
Inspiration Corporation helps improve the lives of those affected by homelessness and poverty. For the past 6 years, Caesarei has worked at the Living Room Cafe, helping Woodlawn residents find resources for housing, to get into school, or start working.

Ceasarei prides himself on self- reliance and a strong work ethic. The program he completed at Inspiration Corporation gave him the resources to change his life (funding for books, transportation, etc.), but it was clear that he had to have the initiative to take action.
"One thing they taught me in that process is that: 'We're gonna give you all of this, but you gotta go get it. If you run into barriers while you do that, we'll help you move it, but you gotta put your back up against it and push it.'"
With the support of the Inspiration Corporation, Caesarei got his GED after living most of his life reading and writing at a third-grade level. He stresses, however, that it would not have been possible if he didn't put in the work himself. He shares this lesson with the dozens of clients he meets with every week. He believes that the organization should serve as a place of encouragement and support, not an area of enabling---a very fine but important line to recognize.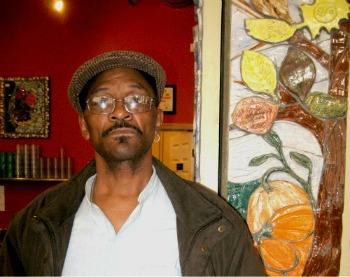 In addition to his hard knocks support strategy, Caesarei is also passionate about community collaboration. He is working to make Woodlawn a model for successful social and community activism for neighborhood across the city.

"The difference [in Woodlawn] is that we function as a cohesive unit," said Caesarei. Living Room is surrounded by other organizations, such as the YWCA, the Public Aid Department and Alderman Willie Cochran's Office, who are a part of that neighborhood network. "We're not in the community right next to another supportive services organization and not utilizing their services or supporting what they do--while they support what we do."

Caesarei works with these organizations and many others to get his clients the help they need. He also believes there's room for growth. With the University of Chicago nearby, student involvement will be crucial to continuing the positive change in the neighborhood.

Get Involved

"We need more student volunteers. That is so huge for every agency in Woodlawn," says Marsh. "When you guys volunteer, you have a positive impact on the people sitting at those tables [in Living Room Café]. They have a glimpse of belief and hope...nothing is more powerful than students."

• Click here for more information or to find out how to volunteer with Inspiration Corporation - http://inspirationcorp.org/index.html
• To find other opportunities for volunteering in Woodlawn, Hyde Park, and beyond, contact UCSC's Volunteer Referral Program - http://ucsc.uchicago.edu/programs/volunteer-referral/