Food Glorious Food: Sampling Chicago's Restaurant Week
By Lily Gordon
Dining out has always been an exciting experience for my taste buds. During "Restaurant Week," the opportunities are expanded--restaurant owners and chefs try to hit us with their best shot: visionary prix fixe menus featuring inventive dishes at a discount. It is a time for those without deep pockets to step up in class and eat like the rich and famous.
Many U.S. cities host one highly anticipated Restaurant Week per year, and in Chicago this year that week is February 17-26. For Chicagoans, the magic numbers are 22 and 33--$22 for lunch, and $33 for dinner at 267 of the city's finest eateries. If you have an inquiring palate, this is the best time to splurge for a taste of toro tartare, Kobe beef, or stone crab.
Speaking of splurging, I am going for broke this Restaurant Week, having already explored the offerings of two participating venues--trendy Japanese "Mirai Sushi," and romantic "Fiorentino's Cucina Italiana" in Lakeview.
My first stop was dinner at Mirai, listed at number four on Zagat's Best Chicago Japanese Restaurants. Located in Wicker Park, it boasts a well-stocked sushi bar, in both ingredients and chefs. In sampling its three-course Restaurant Week dinner, priced at $33, an appetizer called Bin Cho--sushi marinated baby tuna sushi with arugula in a citrus dressing--stood out. The fish melted in my mouth, a true sign of its freshness, and the tanginess of the citrus complemented the soft fish perfectly. The entrees were less inventive and more substantial, but delicious all the same. Needless to say, a refreshing addition to my meals in the dining hall.
Also offering large-portioned entrees was the earthily decorated Fiorentino's--vine-covered trellises, hanging plants, and distressed brick walls enclosed the dining area. I could have easily shared a single $33 three-course meal with my dining partner, and splitting a prix fixe meal is certainly an option for us college students on a budget. I started with the classic arugula salad with shaved parmesan and red wine vinaigrette, a staple at many Italian restaurants. But it was my second course that stood out--the rigatoni with sun-dried tomato sauce--both in size and quality. Though $33 might still be on the pricier side for dinner, the chance to dine at one of Chicago's fine eateries is well worth it-- and it made a great lunch the day after, too!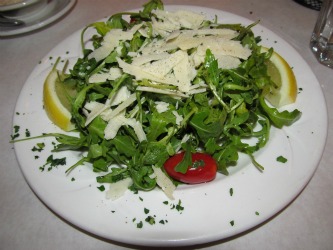 In addition to these two Restaurant Week successes, I have reservations at Ai Japanese Restaurant & Lounge. I scheduled a lunch date immediately after finding the word "toro" (expensive, fatty belly tuna) on a $22 menu. And instead of traveling to Florida for one of my favorite delicacies, I will enjoy Stone Crab Bisque and four medium Stone Crab claws, with key lime pie, for a $22 lunch at Joe's Seafood, Prime Steak, & Stone Crab, located on the North Side.
This fabulously delicious, reasonably priced, and fun opportunity only comes around once a year, and it's the perfect time to step out of Barltett, Hutch, and the Medici, and into the inviting realm that is fine dining in Chicago--even if only for a meal or two.
"As a student, this is the only time this year that I can afford to eat filet mignon and stone crab in one meal," says U of C first-year Francisca Gomez. "Thank you Restaurant Week!"
- Lily is a first year in the college.
The coming of Restaurant Week reminds all of us that food is a vital part of building community throughout the city and here on campus. Join UCSC, Chicago Studies, and the Spiritual Life office for soup and a reading from Martha Bayne's Soup and Bread this coming Thursday, March 1 at 5:00 pm in Rockefeller Chapel. To help the more than 800,000 people in the Chicago area who struggle with food insecurity, visit the Greater Chicago Food Depository's website or check out the Hyde Park Kenwood Hunger Programs. - the editors
· Soup and Bread: A reading with Martha Bayne
· Hyde Park & Kenwood Hunger Programs