Radical Hospitality at the Rock
by David Hays, Assistant Director

"Cooking for other people is an act of love," said 4th year Amy Woodruff in the Uncommon Room in Rockefeller Chapel. She came to last night's reading of Soup and Bread: Building Community One Pot at a Time to connect with like-minded students, staff, and community members. The event, featuring author Martha Bayne, was sponsored by the University Community Service Center (UCSC), the Chicago Studies Program, and the Spiritual Life Office.
The Soup & Bread book grew out of an event that Bayne created at the Hideout - a bar and music venue on the Near North Side. According to Bayne, Soup and Bread evenings were hatched when she realized that early Wednesday evenings were a slow time at the bar. She suggested to the bar's owners bringing soup and asking for donations to organizations addressing hunger. The owners, who see the Hideout as a community building space, immediately jumped on board. The first Soup and Bread event had about 20 attendees and raised money for the Greater Chicago Food Depository.
From these humble beginnings, Soup and Bread has grown over four years into a weekly tradition attracting upwards of a hundred weekly attendees. Everyone from big-name chefs to artists and musicians has donated soup and bread over the years. The list of local hunger relief efforts that have benefited continues to grow.
A journalist by vocation, Bayne started seeing more and more soup-related community and artist-focused efforts, from Dubuque to New York to Milan to Kiev. Bayne's reading described the efforts of Detroit SOUP - a monthly dinner funding microgrants for creative projects in the Motor City. Running through all these efforts, Bayne sees what she calls "a thread of the gently radical."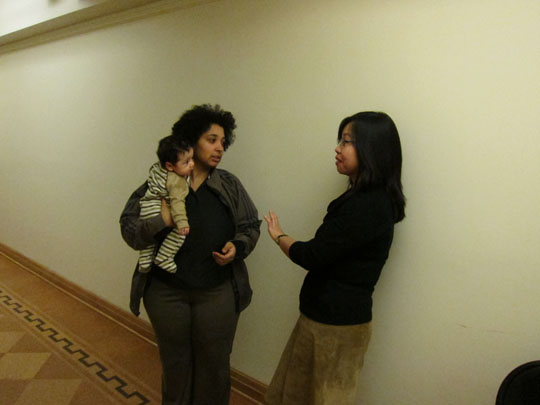 Last night at Rockefeller Chapel, the crowd sampled zesty raw vegan chili from B'Gabs Goodies, tasty lentil soup from Cedars, and Bayne herself cooked up a pot of chevre tomato bisque. Local institution Medici donated bread to complete the meal. After the food, Bayne led a discussion on soup as a means of community building and social change and autographed copies of her book. The hat - or rather the crockpot - was passed and attendees generously donated to the Hyde Park Kenwood Hunger Programs.
Soup and Bread continues at the Hideout every Wednesday night from January to April. For more taste of Radical Hospitality - this time in art - check out the Smart Museum's Feast exhibition running through June 2012.
Learn more:

0 TrackBacks
Listed below are links to blogs that reference this entry: Radical Hospitality at the Rock.
TrackBack URL for this entry: https://blogs.uchicago.edu/cgi-bin/mt/mt-tb.cgi/687