SAGE Advice: When in doubt, go with Gucci--and garlic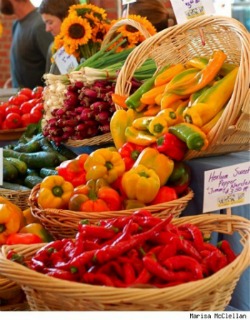 Wondering what's in vogue this fall? We hear loafers and cozy sweaters are making a comeback. But where should you sport your fall best? The farmers markets, of course! October might be your last chance to beet the chilly weather and pick up garlic while working those fabulous Gucci booties that have been hidden in the closet all summer. So grab a chunky scarf and a reusable bag (plastic is such a faux pas these days) and hit the nearest farmer's markets for some fresh picks you can't afford to miss.
What's in season: onions, pears, carrots, cabbage, apples, pumpkins, spinach, sweet potatoes. For a full list (and for what's in season next month), check out this helpful chart.
While some markets have closed for the season, be sure to check out the fruits, vegetables, and other goodies available at the 61st St Farmers Market (Saturdays), which will remain outdoors through the end of the month. Come November and December, you'll find them inside the Experimental Station next door. You can also fill your fashionable vegetable satchel at 53rd and Hyde Park (Thursdays through Oct 27), in Lincoln Park (Saturdays through Oct 29), Daley Plaza (Thursdays through Oct 20), Federal Plaza (Tuesdays through Oct 25), Wicker Park & Damen (Sundays through Oct 30). For hours and more locations, see the full list at Explore Chicago.
Whatever you sport at the farmer's markets this October, we know you'll end up with a colorful and very trendy tote full of delicious fruits and vegetables. Happy fall, southsiders!