Reintroducing the Feast Blog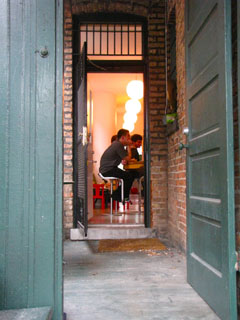 The
Feast
blog has been dormant for the past year--a calm that belies huge amounts of behind-the-scenes activity as we get ready for the exhibition's opening on February 16, 2012. To share that energy, we're re-launching the site with a bright new look courtesy of Jason Pickleman and
JNL graphic design
and fresh content by a new group of contributors. We'll pull back the curtain so you can peek into artists' studios and museum archives. We'll highlight classic older art and introduce works-in-progress commissioned especially for
Feast.
We'll unpack the many kinds of creative labor and collaboration that go into producing a complex exhibition like this one. And we'll look ahead to all the events that will kick off with the exhibition's opening in February and spill out onto campus and around the city until June. Watch for regular posts over the coming months.
Ace intern Sarah Mendelsohn will lead off with posts about her participation in Food for Thought, a University of Chicago class that that Professor
Laura Letinsky
and I co-taught during spring quarter 2011. Laura is one of the artists featured in Feast, and we designed the course to go beyond the meal--Feast's focus--to address the broader topic of food in art. Food and its consumption form essential parts of human experience and have played a correspondingly rich role within creative cultural production over millennia--as vehicles for need and desire, purity and danger, value and lack, connection and disruption. The course considered what's at stake when contemporary artists build on this longstanding practice to explore the complexities of current societal, political, and cultural contexts.
One especially satisfying part of the course were workshops and field trips in which we prepared and shared meals together as a way to ground theoretical debates. For three of these sessions, exhibiting artists
Theaster Gates,
Laura Letinksy, and
Michael Rakowitz
met with the class to discuss their approach to artmaking and share works-in-progress for
Feast.
Food for Thought followed a long tradition of connecting the Smart to University teaching--from Art 101 sessions focused on objects in the collection to seminars like this one that give students intimate views into the working processes of contemporary artists. (Any current UofC students reading this: note that a revised version of the course will be offered in Spring 2012, while
Feast
is on view. Sign up early. Tell your friends!) More soon on the course and workshops from Sarah.