My Dinner with Lee Mingwei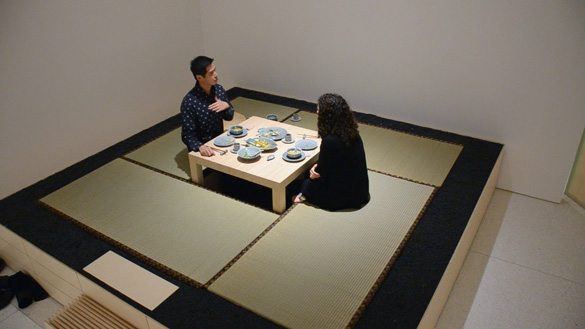 By Dory Fox
University of Chicago third-year undergraduate, double major in English and Jewish Studies
Smart Museum Café attendant
The performative nature of
Lee Mingwei's The Dining Project
rang a particularly strong chord for me as an employee of the Smart Museum, whose usual role is to welcome the museum's guests and to provide them with food. I spend hours each week serving guests in the Museum's café, while
Mingwei
was a visiting artist, creating a new project for the museum's exhibition. And yet, he welcomed me; he made me feel like a hosted guest. This role reversal called my attention to the way that our physical surroundings affect our social roles. However, through the establishment that Mingwei would be the host and I the guest, I also saw how deciding to take a new role can transform how we interact with our surroundings, and can de-familiarize a once familiar space.
One of my favorite parts of Mingwei's piece was the physical design of the table and seating area. When a person sits at a table in a restaurant, or in another person's home, they are exposed. A table acts to shield a person's body to an extent, but a seated individual, stagnant, casted to the shape of his chair, becomes an object on display, just like any other piece in a dining room or in a gallery.
However, I believe that Mingwei's design combated this feeling of display and exposure that one can feel while dining in an unfamiliar environment. I was very surprised when I approached the table, and Mingwei swung his legs around let them hang into a square recess beneath the table. Rather than sitting on chairs or on the ground, we were sitting on closed square of benches. The dining set was like a building, and our legs rested in its courtyard. The platform he had built transformed in my mind from a pedestal to a fortress, from a structure of display to one of protection. This scheme made me feel safe comfortable from the moment I sat down.
Mingwei had also filled the "courtyard" with black beans, which provided a massage for our socked feet when we sat at the table. I spent nearly the entire meal tracing circles in the beans with my feet, like a child playing in the sand at the beach. I thought the beans were a lighthearted and fanciful touch, which provided a constant sensory experience throughout the course of the meal. We are so used to the idea of hospitality through our sense of taste, but people rarely think of how hosts attend to the other senses of their guests. The black bean foot massage heightened my awareness of the importance of sensory comfort and pleasure in hospitality encounters. The significance of sharing a meal lies not only in sharing physical nourishment but also in sharing physical pleasure. I think that this allows for certain level of human recognition: your host or your guest, like you, has a human body that needs sustenance, and your host or guest, like you, has a human body that experiences pleasure.
Join the Feast: the artist will be back in Chicago to host three more one-on-one dinners in the Smart's galleries on April 30, May 1, and May 2. Guests will be chosen by lottery. To enter the drawing or to learn more about this and other participatory projects, visit smartmuseum.uchicago.edu/join-the-feast.
Above:
Dory Fox and Lee Mingwei dining at the Smart. Photos by Steve Rosofsky.