SAGE Advice: July 2011 Archives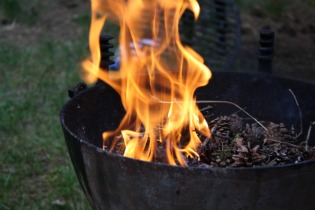 As these past few weeks have made obvious to most Chicago residents, we have finally joined the world in celebrating everyone's favorite season: summer. Yes, it's time to stow away that down coat and start donning that pair of Ray Bans you've been keeping in the dark all winter. And what better ways to celebrate 80 degree temps than with long days on the beach, and, of course, one of America's favorite culinary traditions—grilling.
But before you fire up the grill or stock up on propane and beef, here are some important things to consider:
The Main Dish: America runs on meat, especially when we think about putting things on the grill. One way to lessen your carbon footprint is to increase the amount of veggies you grill. Remember? Corn on the cobb, peppers, eggplant, zucchini, pineapple, asparagus, onions, mushrooms, tomatoes, and potatoes are all easy additions for a barbeque feast. Also consider serving a salad filled with locally grown vegetables and fruit. While we all know that beef consumption is not quite environmentally friendly, you can lessen your footprint by buying grass-fed beef—or substitute extra firm tofu in any recipe that calls for meat.
The Act of Grilling: As you stand over that smoking grill, try closing the hood. This will increase the efficiency of the grill and allow the food within to cook more evenly.
Dessert: While finishing off a barbeque with an apple pie a la mode might seem like a brilliant (and traditional) plan, consider making a blueberry cobbler or having grilled peaches, apples, or pears a la mode instead. Ovens are so energy inefficient that a residential oven design has yet to gain the Energy Star label. So, for a real treat, throw a fruit cobbler in a foil pan on the barbeque as coals are burning out—as far as the environment is concerned, that's free energy!.
Serving the finished product: Sure, those summer-themed plastic plates with their festive colors and bright designs might be tempting, but thinking about them sitting in a landfill isn't so exciting. So instead of buying plastic ware, save some money and the environment by providing barbeque-goers with reusable silverware and plates. Not only will these options help keep your costs down; they will also keep your grilled goods warmer for longer. If lugging your grandmother's finest porcelain out to the park doesn't sound appealing, try buying Reusable Preserve tableware. This plastic ware is sturdy, lightweight, and dishwasher safe so you can reuse them at your next party or backyard gathering.
Choosing a Grill: If you're the market for a new grill, deciding between propane and charcoal can be a daunting task. Using charcoal briquettes might be the most sustainable option considering that they're made from waste products, but the choice isn't so clear-cut. For more about the pro's and con's, click here.
Whatever you're throwing on the barbie this summer, we wish you and yours a delicious and safe celebration of food, sun, and all other excellent things that announce the presence of summer.
Palmer, Brian. "Fire Up the Grill, Not the Atmosphere." Editorial. New York Times. 29 June 2011. Web. http://www.nytimes.com/2011/06/30/opinion/30palmer.html?_r=1. Silver, Rebecca. "How to Go Green: Barbecues." TreeHugger. 19 Feb. 2007. Web. 07 July 2011. http://www.treehugger.com/files/2007/02/how-to-go-green-barbecues.php.
Photo source: http://en.wikipedia.org/wiki/File:Preparinggrillforgrilling,grillwithflamesandcones.jpg